Author: Chuck Marunde
27 Mar
This Port Townsend commercial building is right downtown a few hundred feet from the beach. With two restaurants on street level, two apartments on the second floor, and a penthouse sweet on the top floor, this is a very special building. Built in 1889, it is on the national historic registry, and when you look closely at the quality of the brick work, it is amazing. Artisans built this classic Port Townsend Commercial building.
Port Townsend Commercial Property
Port Townsend Commercial Building, Restaurant and Tea Shop
Port Townsend is unique on the Olympic Peninsula. There are a lot of creative people living there, including artists, authors, entrepreneurs, and there are a lot of incredible family owned restaurants with phenomenal food. On my bucket list is a goal to eat at every Port Townsend restaurant. That may take a while to accomplish.
The MLS description states, "More than 6000 square feet with 2 second floor apartments and a magnificent penthouse apartment on the top floor, 2 retail spaces plus a secluded brick courtyard. Port Townsend Victorian architecture with original wood floors and windows."
You can learn more about this classy Port Townsend commercial property right downtown, view more photos, and peek inside the restaurant and penthouse at Port Townsend Commercial Property.
Possibly Related Posts:
Author: Chuck Marunde
8 Jan
This Sequim commercial property is a rare find. There are very few corner lots at a busy intersection in a wonderful area like this where expansion and growth is expected to continue. You might enjoy this aerial video which really puts this commercial location in perspective. The intersection is Sequim-Dungeness Way and the Old Olympic Highway, two of the busiest roads in all of Clallam County.
Sequim Commercial Property in Great Location
Notice from the high aerial view what is located near and around this Sequim commercial property. These are all very good neighbors. This is within the Sequim City boundary, but is is halfway between Sequim and the bluffs to the north, which is where so much growth is happening. That means this location is very likely to see increasing traffic and increasing residential and commercial growth.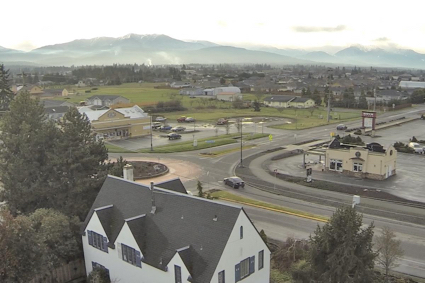 Sequim Commercial Property Uses
What kind of commercial uses could you have on this property? It is zoned C-I(NC). It currently is used for a business called Peninsula Nurseries, which will be sold separately. Permitted uses include alcoholic beverage sales (packaged), bakeries, barbers and beauty shops, churches, convenience stores, day care centers, dry cleaners and laundries, hardware stores, nursery, professional offices, agencies, pharmacy, photographic studios, and more. The property also has water rights with private well.
You can learn more about this 1880 home and this Sequim commercial property at this Sequim MLS site: Sequim Commercial Property.
Possibly Related Posts: