How to Sell a Home in This Market
Advanced Technologies &
Powerful Internet Marketing Sells Homes

Many people know that print advertising and other traditional
marketing techniques no longer sell homes as they once did,
but few know the technologies and Internet marketing strategies
necessary to connect with buyers from all corners of the U.S.
Chuck Marunde has been quietly working on this since 1995.
For the first time in his career, he is revealing his secrets.

In 2011 over 315,000 potential buyers visited Chuck's Sequim &
Port Angeles real estate site. Chuck's online articles were read an
an amazing 1.6 million times.


Learn the secrets that Realtors pay thousands of dollars to discover:
How to bridge the gap from the traditional approach to the new world of marketing

Discover what new marketing techniques have replaced print newspapers & mag.

Find out the deadly sins that almost guarantee you won't sell your home.

Learn how to connect with "qualified buyers."

Learn how to price your home to sell (that doesn't mean keep reducing the price).

Find out about the huge gap between buyers and sellers (unknown to sellers).
Discover Digital and Virtual Real Estate
Learn about the importance of social media & other technologies.


Find out about search engines, SEO and how buyers search for Sequim homes.

Learn the truth about what marketing techniques work and which ones do not.

This Seminar is Free to Sequim & P.A. Homeowners
No Real Estate Professionals

When: To Be Scheduled - Register Below & We Will Notify
You When We Have Our Next Seminar
Or You Have
The Option of A Personal Presentation in Your Home
(You Can Register or Call for a Personal Presentation)
Everyone Must Pre-Register Online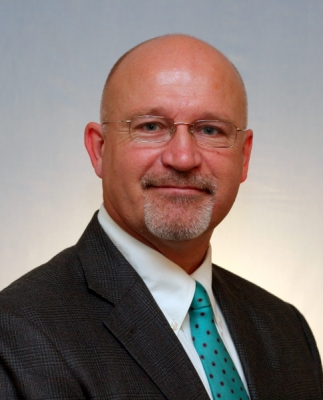 Chuck Marunde has 37 years in real estate. He became a Realtor in the mid-1970s and later practiced real estate law for 20 years. He then came full circle and came back to real estate sales by opened Sequim & Port Angeles Real Estate as the market began to slide into a recession. He built a massive Internet marketing system and has been selling an average of one house every month even as the number of Sequim Realtors dropped from 258 in 2008 to 107 in 2012.
Chuck has over 1,200 articles published on the Internet written specifically about Sequim and Port Angeles real estate issues. He is the author of several books, including Buying & Selling Real Estate in the Rain Shadow and The New World of Marketing for Real Estate Agents.
Chuck raised his own family in Sequim. Two of his sons became professional athletes. Jesse Marunde became the 2nd strongest man in the world, and Bristol Marunde now holds the SCC Middleweight Title in Mixed Martial Arts and is a UFC competitor on FX TV on Friday nights.
Meet the Team. Come and meet The Team at Sequim & Port Angeles Real Estate. Judy Stirton has over 3 decades in real estate, inluding running an office of 50 agents in California. Adelita Jorquera owned a successful mortgage business in California, and before moving to Sequim sold over 100 homes in Tacoma.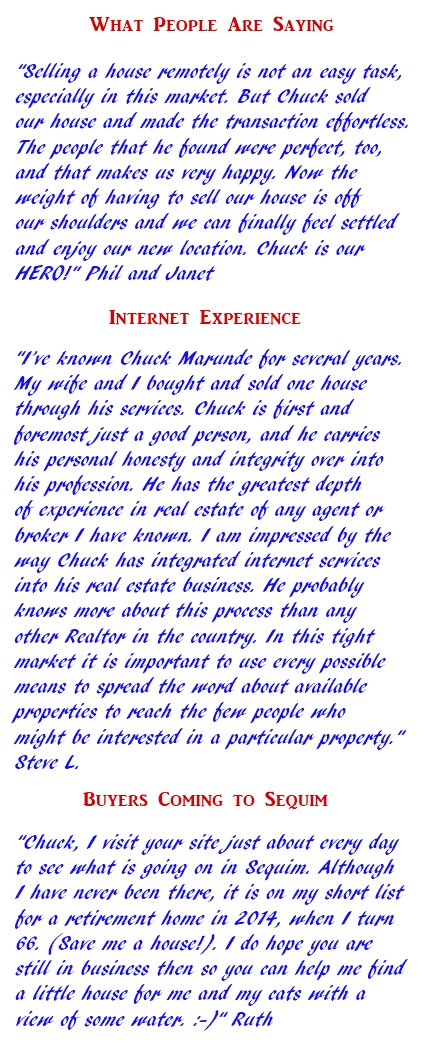 How to Sell a Home in This Market
Register Now

Seating is Limited to 15

There will be a Q&A session at the end of this short one hour seminar, so bring your questions. You're welcome to take notes with a pen and paper, but no recording devices are allowed. This seminar is specifically for homeowners who are not in the real estate business and who do not have a member of the family in the real estate business.

If you unable to attend this session, call Adie at 360-461-4553 to ask about our next scheduled seminar, or ask about an in-home personal presentation in your home.

Notice: If you're home is currently listed with a real estate broker, this is not a solicitation, nor will there be a solicitation at the seminar. This is an educational seminar for homeowners.


Chuck Marunde, J.D.
Designated Broker/Owner of Sequim & Port Angeles Real Estate, LLC
143 Higgins Lane, Sequim, WA 98382
email address: chuckmarunde@gmail.com
Direct Phone No.: 360-775-5424