Do you know about buyer's agency?  I recently was talking with clients whom I represented as their buyer's agent, and they informed me they were talking to a couple who had never heard of buyer's agency.  Buyer's agency is so important for a buyer.  Imagine a real estate agent listing a property for sale.  He owes that seller a legal and fiduciary duty, which means he has essentially said to that client, "I hereby promise to get you the highest possible price."  Now a buyer drives into town, calls off the sign and wants that same agent to write an offer.  The same agent owes the buyer a legal and fiduciary duty and is saying to that buyer, "I hereby promise to get you the lowest possible price."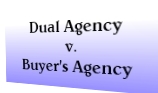 Such a conflict is clear on its face, but there are still buyers who do not know the importance of eliminating this conflict of interest.  Not only could a buyer pay more by hiring a dual agent with a conflict of interest, but you could buy a home without completing the kind of due diligence you should do as a buyer.  There are many terms in a purchase that are part of the agreement.  Dual agency is a huge trap for the unwary buyer, and it is why I share the truth about this subject.  Notice that few agents talk about this conflict, because if they can represent you as a dual agent, they get double the commission.  That's right.
Here are a series of articles I have written that help explain this conflict of interest and how you can avoid it.  Do your due diligence on your purchase, but also do your due diligence on the real estate agent you hire to represent you when you purchase your home.
Dual Agency and The Exclusive Buyer's Agent
Buyer's Agency – Buyers Beware
What is the difference between a listing agent and a buyer's agent?
Sequim Real Estate & Buyer's Agency
Sequim Exclusive Buyer's Agent (and Port Angeles)
Exclusive Buyer's Agent or Dual Agent?
Sequim Realtor and Buyer's Agent Chuck Marunde
I hope these articles on Buyer's Agency are helpful.  My desire is to give you all the information you need to make wise decisions when you purchase your retirement home in Sequim.
Last Updated on December 18, 2019 by Chuck Marunde