Sequim and Port Angeles now have a newspaper online with a new and exciting look and content that is driven by local interests, stories, and helpful news. This is bigger than it may sound for several reasons. What sets this newspaper apart from the Sequim Gazette or the Peninsula Daily News? A lot. Here's the short list: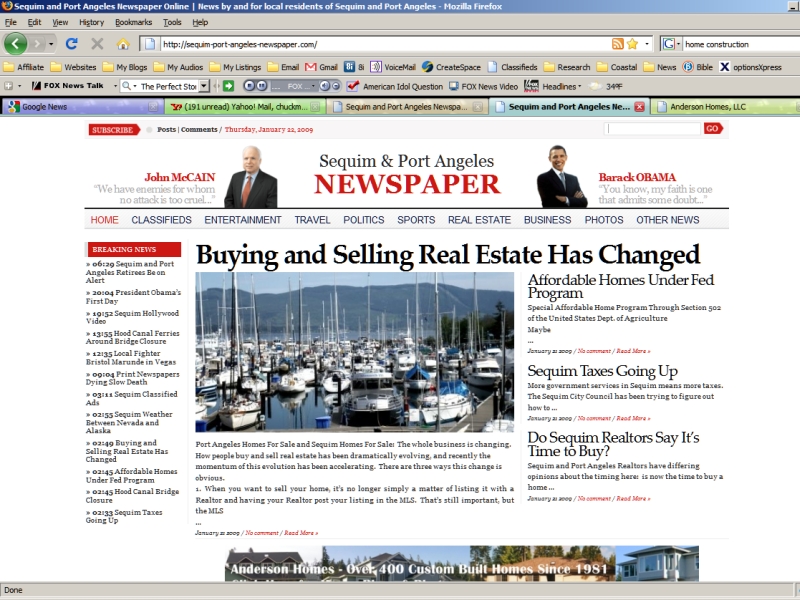 Exclusive Online Newspaper.   People are using the Internet for almost everything, including reading the news and searching for information.   The Internet is an amazing venue, because it doesn't matter whether a person lives in Sequim or Port Angeles, or in Santa Barbara or Phoenix, all can do the same search on the Internet and read the same news online.   Now with a dedicated online news source, Sequim and Port Angeles has joined the rest of the world with an exclusive online newspaper.
User Friendly.   This online newspaper is designed for consumers to be easily navigated with news well organized as well as information and classified ads easily accessed.   Logical and intuitive navigation is no small thing these days.   Sometimes it's hard to find what you're looking for on the Internet, but this newspaper is designed to make it easy and enjoyable to read.   Readers will love our articles and the positive focus of our efforts.   We seek to educate our readers with solid news, local news, national news of interest, photographs of local activities, opinions and commentaries, good advice, and a free classified ad service online only for Sequim and Port Angeles buyers and sellers.   Our readers will receive valuable services, all free, including the ability to search the entire Sequim and Port Angeles MLS (multiple listing service) online without registration.   Readers are encouraged to submit news and human interest stories.   When was the last time a print newspaper made that offer?   Our readers can email news to our editor and submit news of local events and local people.   This makes this newspaper something that is essentially owned by Sequim and Port Angeles residents.   You can not only read the news, you can be the news.
Free Subscription Online.   While print newspapers have to rely upon subscription fees and advertising income, we offer our online newspaper to our readers absolutely free.   Not only is our newspaper free online, many of the services that are packaged with our newspaper are free, including a powerful online classified ad service dedicated to Sequim and Port Angeles, MLS searches, and much more to come.
Independently Owned.   Traditional business models for print newspapers are completely different creatures.   Print newspapers have a lot to worry about, including high overhead and massive fixed and variable expenses, and as a result they have to chase businesses (with some high pressure techniques) to pay for expensive advertising.   That is a driving force for print newspapers that a dedicated online newspaper simply does not have.   You'll be pleased with our online newspaper, because obnoxious advertising isn't slapping you in the face every time you look at it.   What does that mean for consumers?   It means news that is focused on what consumers are truly interested in reading without artificial or hidden agendas.   It also means we can publish human interest stories and positive news that inspire and encourage its readers.   You may wonder who the founder and editor is.   That would be ChuckMarunde , J.D.   Chuck is a retired real estate attorney, real estate broker, and author.   Chuck is an avid writer on the Internet and an Internet marketing consultant.   This is another of the community services that Chuck is pleased to offer.
Read, learn, laugh, and enjoy.   Sequim and Port Angeles Newspaper online.   Let us know if you like what we are doing.
Last Updated on January 22, 2009 by Chuck Marunde