This Sequim Real Estate Blog has so many resources, it became obvious I needed a page with links to many of these resources. Sequim & Port Angeles Real Estate (also registered as iRealty Virtual Brokers) has built the single largest library of powerful resources for buyers of Sequim real estate. This page and the links under the "Resources" tab on this site will link to many Sequim real estate resources that you will love. Tens of thousands of retirees have told me they love these resources. The 1,800 articles on this blog are read over three million times each year. I hope that you find these resources helpful.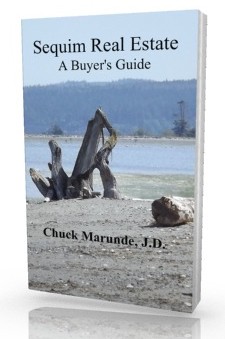 Six books written by Chuck about buying Sequim real estate, searching for the perfect home, filtering the list, negotiating the best price and terms, doing your due diligence, and making through the many challenges of buying real estate in this market.
Wouldn't it be great if you could learn more about a home that you are considering? These links to special real estate records and maps are invaluable, because most people don't know these resources even exist, let alone find them with the urls that one could never memorize. You'll want to book mark this resource.
This MLS site was designed for Sequim and Port Angeles real estate searches with retirees in mind. It is programmed to make your searches convenient and easy to save your favorites. There are special links that retirees love, and the navigation and graphics are very popular.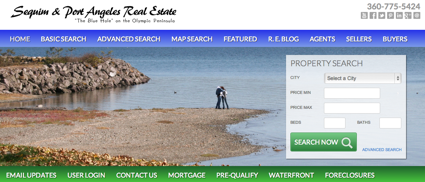 Looking for one place where all the Sequim and Port Angeles foreclosures are listed?  This is it. Chuck was a real estate attorney who knows the intricacies of foreclosures inside and out. Don't rely on some of the so-called foreclosure sites with incorrect data. Just use this site and email questions to the expert at chuckmarunde@gmail.com.
5. Sequim Real Estate Newsletters
With several specialized Sequim real estate newsletters, no broker offers clients so much. You choose which newsletter you want, and you can unsubscribe yourself anytime you want. The most popular newsletter is the weekly email newsletter (Sequim Real Estate Newsletter) which includes a list of the week's articles with a brief summary and links to the articles. This is a great way to keep up with the
6. Real Estate Agent Interview Checklist
These 22 powerful interview questions for your real estate agent will definitely separate the children from the adults. This list was compiled by a 37 year veteran who knows what clients want and need after working with thousands of clients.
7. Sequim Business Directory (and Port Angeles)
Links to the online local businesses with websites, including bed and breakfasts, hotels, restaurants, and many different businesses.

One of the most powerful tools you have on your fingertips is the search tool for almost 1,500 articles written about buying Sequim real estate and Port Angeles real estate. You can search by word or even better by niche phrases for a precise issue, and a whole index of articles on that topic will pop up for you to navigate. Even the author of all these articles uses this link to find an exact topic or article.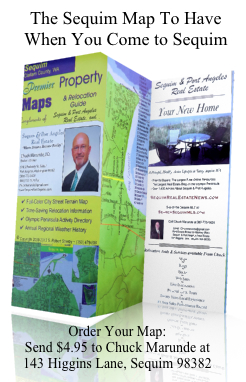 9. The Ultimate Sequim Map
You'll want this Sequim Map when you drive around Sequim. It includes all the streets and names of course, but it is one of the best maps you'll ever see for Sequim. I had it specifically designed and produced to please my buyers. It also includes on the flip side of the map a list of all the hotels, restaurants, Sequim events and activities, and addresses and phone numbers. You'll love this map. And you and order it by simply sending a check for postage for $4.95 to Chuck Marunde at 143 Higgins Lane, Sequim, WA 98382.
10. The Mobile Sequim MLS iPhone App
If you have an iPhone or an iPad, you can download a free Sequim real estate app from the iTunes store and look up any property from the curbside while driving around. You can learn more about how this works at Sequim Real Estate from Mobile devices.
11. 3D Virtual Tours
We are the first brokerage in the entire area to do true three dimensional virtual tours inside homes, giving buyers the opportunity to virtually walk through an entire house by using their mouse on their computer. These virtual tours are incredible, because you can walk into every room in the house, turn 360 degrees anywhere, and even go up and down stairs. Always on the cutting edge and way way ahead of other traditional brokerages, Chuck Marunde is always asking, "What do buyers want," and then he gives it to them.
12. Sequim Real Estate Aerial Videos
We are the first brokerage to do high quality aerial videos and have someone on staff who has the expertise to do these, again giving buyers the best and truest representation of Sequim real estate.