The North Olympic Peninsula has a rich history of dairy and cattle farms, fishing, and logging going back well over one hundred years.  We have a lot of fields that are wide open spaces where cattle still graze, and believe it or not, some of those cows have gorgeous water and mountain views!  I know, it's ridiculous.  We also have some 100+ year old farm houses and cabins that are still quite livable.  I love this kind of history.  Alongside Highway 112 west of Port Angeles this little old house stands as a testimony of another time.  Oh, if this house could only talk . . .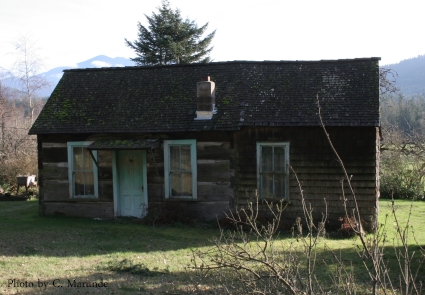 Possibly Related Posts:
Author: Chuck Marunde
2 Aug
There are only two dairy farms left in Sequim, and those are the only two left in all of Clallam County.   Both are small family operations.   Dairy farms have been going away in Washington and throughout much of the Northwest as the profit of producing milk diminishes coupled with the extraordinary increases in the value of land for residential development.
Here is a graphic showing the decline of milk cows in Clallam County, Washington.
Click on graphic to enlarge.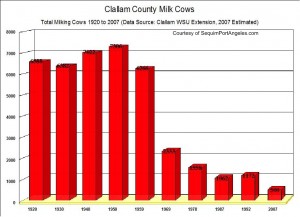 From a high of over 7,300 milk cows in 1950, we are now at about 500.   The small dairy farms have been going away in western Washington rapidly over the last decade.
Possibly Related Posts: