As a Home Inspector I am involved in continuing education.  Keeping up-to-date with current building practices, changes in standards and unfortunately, sometimes product defects and re-calls that affect the inspection industry is a full time occupation.  I am often asked questions concerning the reputation of not only the builders, but of the quality and types of the building materials being used in the construction of newer homes and attached decks and balconies.  Although the majority of our local contractors are in the business of quality workmanship when building or renovating homes, they are still subject to the possibility of having used less than superior or even acceptable materials.
Some manufacturers are responding to distributor's, wholesaler's, retailer's and customer's complaints by issuing alerts and warnings of product deterioration and failure.  Installing the decking to meet each particular manufacturer's specifications is paramount in complying with warranty guidelines and restrictions.  Taking a moment to look over the following information could help your clients better understand that even using the most currently advertised materials is no guarantee that problems will not develop in the future.  It is my job as an inspector to carefully relay any applicable information, based on the visible conditions observed at the time of inspection that may impact the life expectancy of the decking materials that were used in both new construction and renovated decks and balconies.
Warping, uneven wavy deck surfaces, cracking at the point of attachment, swelling and cupping of individual boards, crumbling /deteriorating surfaces, and mold spots are evidence of product defects that may be pointed out to the client.  Regardless of the manufacturer, the "on center" distances of the supporting joists, number of fasteners, type, and placement of the fasteners are only a couple of issues that may be brought to the client's attention during an inspection when discussing proper product installation.
Deteriorating / Crumbling Decking Materials: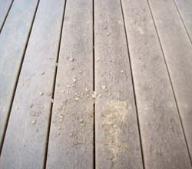 This picture was taken during a recent Home Inspection at a Sequim residence. The house and deck were built in 2004 and illustrate some of the onsite conditions that clients in this area are facing when purchasing a home with a deck constructed with composite materials manufactured by various companies.
Splitting/ Cracking/Crumbling:

Have you noticed any decks with damage that appears like this?  The first picture was provided by Louisianan Pacific on their website and shows the deterioration of the decking boards at the cut end and point of attachment to the support joists. The trade name is Veranda and is locally sold at Home Depot and has been widely used by home owners and some contractors to renovate an aging deck on older homes and on some new construction projects.
The other two pictures were taken during recent Home Inspection of a Sequim residence built in 2004 and again show damage due to the deterioration and failure of these types of products that clients are questioning during inspections.
Louisiana-Pacific Corporation (LP Building Products) (LP) LPX today issued a product advisory for composite decking materials purchased after January 1, 2005, and made by LP at its Meridian, Idaho facility.
Some of the product can prematurely deteriorate and break, posing a risk of injury to consumers. LP decking products, including deck board and railings sold under the names of LP WeatherBest®, WeatherBest®, ABTCo and Veranda® are subject to this advisory.  The products are used for building outdoor decks. LP has received claims of premature deterioration of a small portion of its decking product due to variations in manufacturing processes in this time frame.
LP Executive Vice President of Specialty Products and Sales Rick Olszewski said, "We want consumers to be aware of the potential risk of injury, and to contact us. Though only a small portion of decking sold has been affected by these issues, we urge people who bought or installed these composite decking products after January 1, 2005 to contact us for an inspection through our decking notice Web site or customer service line."
The decking advisory Web site is at www.deckingnotice.com.
Mold, mildew and mold spots similar to these pictured are common on composite decking in this area.  This is just not a Pacific Northwest problem but very well can be a product defect. Proper cleaning is essential in maintaining not just the look of the deck but in extending the life expectancy of the decking- see page 4.
Trex Settles Product Lawsuits –September 14, 2004
Trex and Exon-Mobil (the former owner of Trex) have agreed to settle a class action lawsuit. The suit claimed that Trex decking rotted, splintered and degraded, contrary to widespread advertising and marketing claims by the company, and that Trex failed to live up to its warranties against product defects. After initially calling the lawsuit "frivolous", Trex agreed to stop all advertising claims that its deck products do not require sealant and are maintenance-free. Trex also agreed to replace any defective product sold between 1992 and 2004. For more information, contact 1-800-289-8739 begin_of_the_skype_highlighting              1-800-289-8739      end_of_the_skype_highlighting or question@trex.com.
Trex settled a similar suit by one of its large distributors in 2000 for fraudulent business practices in which it was claimed that Trex materials tended to "disintegrate, crumble, turn pink, turn blue, spot, bubble, blister, contain lumps, contain hidden defects such as metal objects .., or grossly warp if exposed to sunlight or weather" and that the company failed to honor its warranty. The actual settlement terms are secret.
GeoDeck Products Recalled- August 16, 2005
Proving that not even the best product testing is fool proof, the GeoDeck composite decking products top rated in 2004 by Consumer Reports have been recalled for safety issues.  The Consumer Products Safety Commission announced a voluntary recall of certain GeoDeck products for dangerously rapid degradation, especially in hot climates. Although no-one has yet been hurt, the recall was prompted by several hundred confirmed reports of composite deterioration to an unsafe condition.For more information and to see if your deck qualifies for the recall, visit GeoDeck Recall Information.
Mold/Mildew: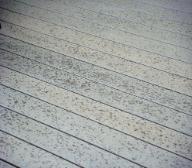 Cleaning Composite Decking
WARNING:
Chlorine Bleach or Sodium Hypochlorite (active ingredient in Chlorine Bleach) based deck cleaners may appear to quickly remove mildew (white in color) and mold (black and other colors) fungus from Trex and other Composite Decking. Nothing could be farther from the truth.
The Environmental Protection Agency (EPA) and the Occupational Safety & Health Administration (OSHA) DO NOT RECOMMEND Chlorine Bleach for Mold (Mildew is a species of Mold) remediation on porous surfaces such as Trex and other composite decking.
The reason for this is that Chlorine Bleach does not remove or kill the roots (mycelium) of the fungus, but actually waters them. A few weeks after you have cleaned a deck with chlorine bleach or sodium hypochlorite based products you will notice the mildew or other mold fungus growing back in greater numbers, especially after additional moisture comes into contact with the deck. It will make the problem worse and harder to remove the next time the composite surface becomes unsightly.
In addition, Chlorine Bleach products shorten the life expectancy of the rest of the deck structure. It is corrosive to any metal including structural connectors or fasteners (screws) holding the deck together. It shortens the life of the pressure treated lumber supporting the deck. This could lead to liability issues for the owner of the property and any company who recommends its use.
RECOMMENDATION: Clean deck surfaces with an approved product such as but not limited to the following listed products.
CORTE CLEAN® ECO-FRIENDLY Composite Deck, Dock & Fence Cleaner is an amazing solution for easily cleaning composite stains resulting from Mold (mould), Mildew, Black Spots, Grease, Oil, Barbecue (BBQ), Tannin(s) (black Wood Fibers), Leaf, Chalk, Berries, Sunscreen, Olive Oil, Citronella Candle Oil, Peanut Butter, Red Wine, Hard Water, Grass, Ground in Dirt, Iron (red dirt), Rust, Clay, Grime, Slime and most other stains that have saturated into a composites porous or non-porous surface.  See www.corteclean.com
MESSMER'S COMPOSITE DECK CLEANER, Many owners of composite decks have been disappointed in their appearance as they weather over time. Some of these materials quickly fade to an unattractive gray color, but you can restore your deck's appearance with Messmer's Composite Deck Finish.  See www.messmers.com
We thank Tyler Conkle for his contribution.  Tyler is a Home Inspector with Vanguard, and you can find him on his website at http://www.vanguardinspect.com.
Last Updated on June 17, 2019 by Chuck Marunde