Print newspapers are losing readers to the Internet, and there is a ongoing debate about how many years newspapers can last.   This is being written in October of 2008, so it will be quite interesting to watch how accurate this article turns out to be, or not. 
Note: This article has garnered dozens of comments, which you might find interesting. Comments are at the end of this article.
"After a century of continuous publication, The Christian Science Monitor will abandon its weekday print edition and appear online only, its publisher announced Tuesday. The cost-cutting measure makes The Monitor the first national newspaper to largely give up on print. . . . John Yemma, The Monitor's editor, said that moving to a Web focus will mean it can keep its eight foreign bureaus open. We have the luxury, the opportunity, of making a leap that most newspapers will have to make in the next five years, Mr. Yemma said. [Source: Paper to End Daily Edition]
Web 2.0 is a popular term used to describe the new ways people interact on the Internet.   New technology is finding new applications as the costs and methods of selling intersects with consumer demands. This sea change is accelerating a decade old trend.   Consumers are losing interest in paying for newspapers, and they're moving to the Internet.
Newspapers exist to make a profit, the goal of all profit corporations.   Subscription fees and advertising are their primary sources of income.   The overwhelming problem newspaper publishers face is that subscriptions are dropping as people can easily get their news free on the Internet 24/7, and businesses are cutting expensive advertising from their budgets because they cannot afford it, and because it is no longer producing results.
Many newspapers have created an Internet version of their papers, but for most that has been a disaster.   For traditional print media there has been a huge disconnect between the printing presses that operate with gears and ink and the Internet that cannot be mapped on Google.   Many publishers and editors have attempted to use blunt tools to traverse the chasm between printing presses and the virtual world of the Internet.   Many are failing, and the current recession is the catalyst of their doom.
Even Microsoft, which moves very slowly, and only takes on new markets when others have already mapped the way, has been forced to reconsider its strategies involving the Internet.   Remember it was Microsoft that refused to admit that Internet browsers were the way of the future, and after Netscape mapped out a large virtual presence, Internet Explorer was born of necessity and became a major MS priority.   And after years of refusing to admit that the world will move away from expensive PC software, Microsoft finally capitulated and with some fanfare recently announced their grand plans to pursue cloud computing with Azure.   Can there be any doubt the Internet is capturing vast territories?
". . . with the rapid movement of dollars to the online space, [Paul] Martino [CEO of Aggregate Knowledge] believes it's just a matter of time before online advertising dollars will overtake traditional media."   View article about online advertising.
"The latest Pew survey reinforces some of the key media chattering-class talking points for the past couple of years: Newspaper readership is declining, young people prefer their news from the Internet, . . . It's definitely cutting into the time of print newspapers, which continue to hemorrhage readers to the advantage of online news"   View article from Technews World.   Another Pew study during the presidential election concluded:
Many more Americans are turning to the internet for campaign news this year as the web becomes a key source of election news. Television remains the dominant source, but the percent who say they get most of their campaign news from the internet has tripled since October 2004 (from 10% then to 33% now).
While use of the web has seen considerable growth, the percentage of Americans relying on TV and newspapers for campaign news has remained relatively flat since 2004. The internet now rivals newspapers as a main source for campaign news. And with so much interest in the election next week, the public's use of the internet as a campaign news source is up even since the primaries earlier this year. In March, 26% cited the internet as a main source for election news, while the percentages citing television and newspapers remain largely unchanged. [Read Article]
I'm reminded of how Kodak had to shift its decades-long focus on film about five years ago.   They actually closed their Rochester manufacturing plant to focus on a whole new line of digital products.   Corporations and big shots don't determine what products are produced–consumers do.
"Time Inc., publisher of Fortune, plans to slash 600 jobs, according to a report in The New York Times. Gannett Co., publisher of USA Today, plans 3,000 job cuts, according to Reuters, and the Tribune Co.'s Los Angeles Times plans to cut 10% of its workforce."   View article entitled Print Media Companies Slash Jobs as Economy Sputters.   The Washington Post reported print advertising dropped 14 percent for the quarter, and was down 16 percent for the first nine months of 2008.   View article Washington Post Co. Profit Plummets in Third Quarter.
Why do so many people love their Internet news?     Is it because it's free?   Or is it because it is easily accessible 24/7, has unlimited search and result possibilities, includes opportunities to interact and participate, or is it because Internet news has both audio and videos?   Maybe it's all of the above.
Watch in the months and years ahead as traditional media moguls are humbled by the ending of an era.   Who doesn't read most of their news and information on the Internet?   After all, you are re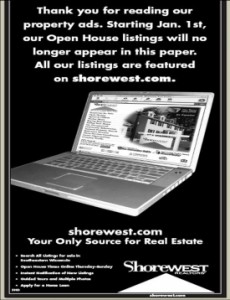 ading this article.
Update 12/29/08:   A major real estate brokerage published this nice little ad in their local paper:
Update 1/6/2009:   "Many Media experts predict that 2009 will be the year that newspapers of all sizes will falter and die, a threat long predicted but rarely taken seriously until the credit crunch blossomed into a full-fledged financial meltdown.   Some papers no longer print daily, and some not at all."   And this, "How long can the smaller Sun-Times survive as its parent, Sun-Times Media Group Inc., loses money every quarter? And what of the dominant Tribune, whose parent Tribune Co. sought bankruptcy protection this month because of its crushing $13 billion debt?"   And this, "The Internet has surpassed newspapers as the main source for national and international news for Americans, according to a new survey."
Update:   "The Hearst Corp. is unlikely to find a buyer for its money-losing Seattle Post-Intelligencer, and the venerable newspaper — at least in its printed form — almost certainly will fold, industry observers say."   Seattle PI Going Out of Business
What's next?   The Port Angeles Daily News?
Update 1/14/09:   "The Gannet Company, the nation's largest newspaper publisher, said on Wednesday that it would force thousands of its employees to take a week off without pay in an effort to avoid layoffs. Gannett, which owns 85 daily newspapers across the United States including its flagship USA Today, said it could not say exactly how many people would be required to take time off, or how much money the company would save. But it said it would require unpaid leave for most of its 31,000 employees in this country." [Newspapers Going Down]
Update 1/14/09:   "The Minneapolis Star Tribune, the 15th-largest daily U.S. paper based on circulation, filed for bankruptcy on Thursday, one of the biggest U.S. newspapers yet to financially flame out under a heavy debt load and a punishing decline in advertising revenue. . . The news came on the same day that The Boston Globe, owned by the New York Times (NYT.N: Quote, Profile, Research), said it would cut 12 percent of its newsroom staff, and a day after USA Today publisher Gannett Co Inc (GCI.N: Quote, Profile, Research) said it would force staff to take a 1-week furlough."   Read Minneapolis Star Tribune Files for Bankruptcy.
Update 1/20/2009:   "Google Inc will kill a program to sell newspaper advertising because it is not making enough money, a blow to its efforts to expand its ad expertise beyond the Internet.   Google will shut the Print Ads program on Feb. 28, the company said on its blog on Tuesday afternoon. The two-year-old service was designed to help newspapers make money by enticing Google advertisers to expand into print newspaper sales."
Update 1/31/2009:   "Not that it's anything we think the New York Times Company should do, but we thought it was worth pointing out that it costs the Times about twice as much money to print and deliver the newspaper over a year as it would cost to send each of its subscribers a brand new Amazon Kindle instead. . . .   What we're trying to say is that as a technology for delivering the news, newsprint isn't just expensive and inefficient; it's laughably so."   Read Printing the New York Times.
Ladies and gentlemen, you are witnesses to the slow death of the American newspaper.
Update 02/17/09:   "After 146 years in operation, an icon, the Seattle PI is going out of business.   The Seattle PI announced on January 9th that they would seek a buyer for the newspaper for a period of 60 days, and if no contract is inked with a buyer, the newspaper will have to take dramatic measures, which could include closing their doors permanently and/or going to a web version only."   [Read The Seattle PI Closing:   Who Wins and Who Loses?]
Update 02/23/09:   "The American newspaper industry has become the subject of more bad news, with the announcement that two local groups, including one that owns the country's third-oldest daily newspaper, have filed for bankruptcy protection. The Philadelphia Inquirer has been placed into a Chapter 11 filing to allow its owners to restructure debts. The paper will be joined in bankruptcy protection by the Philadelphia Daily News and the website philly.com.   The strife faced by such a hallowed title – the paper was founded as the Pennsylvania Inquirer in 1829 and rose to prominence during the civil war -comes after the Journal Register company sought bankruptcy protection at the weekend. It owns 20 daily newspapers in Pennsylvania, Michigan, Ohio, Connecticut and New York."   [Read US Papers File for Bankruptcy]
Update 2/24/09:   "The Hearst Corp. said Tuesday that unless the San Francisco Chronicle can undertake "critical" cost-cutting measures including job cuts within weeks, the media giant will be forced to sell or close the 144-year-old newspaper.   The storied San Francisco publication is only the latest newspaper to see its already sagging fortunes tumble further amid the economic downturn. Over the weekend, Philadelphia Newspapers LLC, publisher of the Philadelphia Inquirer, as well as Journal Register Co. each filed for bankruptcy protection. See related story on the health of the newspaper industry.   Hearst said the Chronicle lost more than $50 million last year, and added that "this year's losses to date are worse." The Chronicle has had major losses each year since 2001, according to the company."   [Read Hearst Says Cuts Needed.]
When a company talks about "weeks" and drastic measures, you know there is serious trouble ahead.
Update 2/26/09:   "The Rocky Mountain News, a Denver institution for 150 years, will publish its last issue tomorrow.   A three-month long effort to sell the property yielded only one nibble, and the prospective buyer backed away quickly after learning that it would cost about $100 million just to stay in the game," said Rich Boehne, chief executive officer of E.W. Scripps Co. "The industry is in serious, serious trouble, he told staffers assembled in the Rocky'snewsroom (above, Rocky Mountain News photo)."   Read Rocky Mountain News.
Update 2/28/09:   "Why a once-profitable industry suddenly seems as outmoded as America's automakers is a tale that involves arrogance, mistakes, eroding trust and the rise of a digital world in which newspapers feel compelled to give away their content."   And "Years ago," says Jeff Jarvis, a blogger who has worked for the Chicago Tribune, the San Francisco Examiner and the New York Daily News, "why didn't we take more aggressive action and use the power of our megaphone to promote the product and change the organization?" The answer is that newspapers were "a cash cow," he says. "We thought too much about trying to preserve what we had."   And "With the old business model crumbling, some analysts say newspapers must find a way to charge for online content — perhaps through "micropayments" of the kind popularized by iTunes, which offers songs for downloading at 99 cents apiece. Others say papers must go the nonprofit route, relying on donors to raise endowments, much like universities."   And "Newspapers are killing sections and closing bureaus, particularly in Washington. The Detroit News and the Detroit Free Press have cut back home delivery to three days a week. The Washington Times has dropped its Saturday print edition. The Christian Science Monitor is switching to Web-only publication in April. Gannett Co., publisher of USA Today, is forcing staffers to take a week-long furlough. Hearst plans to close the Seattle Post-Intelligencer unless it gets a buyer."   [Read Under Weight of Its Mistakes, Newspaper Industry Staggers.]
Update 3/9/09:   You've got to catch the irony of it, an online newspaper reporting the fall of the print newspapers.   The Charlotte Business Journal reported this:   "Struggling newspaper publisher McClatchy, parent company of Charlotte's Observer, said Monday that it would cut 1,600 jobs and lower salaries across the company. . . But the steps announced Monday were even more severe than McClatchy was envisioning in February. The chain has been poisoned by a toxic mix of factors – immense debt from McClatchy's purchase of Knight-Riddder a couple of years ago, the flight of readers and advertisers from daily newspapers to the Internet and a severe recession."   Read full story at McClatchy to Cut 1,600 Jobs.
Update 3/26/09:   Some have thought that the newspaper business was not entirely at risk, since some of the biggest industry players were still operating safely.   That's no longer true.   "On Thursday, the New York Times announced it was cutting salaries for editors and managers by 5% through the end of the year and would be asking for the same concessions from unionized newsroom employees. The Washington Post, meanwhile, will extend buyouts mostly to newsroom, production and circulation staffs. Layoffs could come next.   Now that two of the nation's best-regarded newspapers are taking dire actions, all bets are off. From now on, bad news across the newspaper spectrum will have to be accepted as more than simply a risk of doing business. It will be treated as routine"   Read Newspapers Need a New Business Model.
Update 3/31/09:   "Sun-Times Media Group Inc. has become the second newspaper publisher in the Chicago area, and the latest among several around the U.S., to file for Chapter 11 bankruptcy protection at a time of unprecedented advertising revenue declines in the newspaper industry. Rival Tribune Co., publisher of the Chicago Tribune, the Los Angeles Times and the Baltimore Sun, filed for bankruptcy last December.'   Read Chicago's Sun-Times Media Files For Chapter 11.
Update 4/24/2014:  For the latest on Print Newspapers dying, see Newspaper Death Watch, which tells the story of many newspapers that have gone out of business since the last update to this article. And check out the latest article on this blog as of this date at The Death of Newspapers.
Update 8/6/22: The Internet has taken over the primary source of income for print newspapers, and that would be advertising. Billion dollar companies have been built on this basis. It's really surprising that there are many print newspapers still left and still printing. 
Last Updated on October 30, 2008 by Chuck Marunde