There are only two dairy farms left in Sequim, and those are the only two left in all of Clallam County.   Both are small family operations.   Dairy farms have been going away in Washington and throughout much of the Northwest as the profit of producing milk diminishes coupled with the extraordinary increases in the value of land for residential development.
Here is a graphic showing the decline of milk cows in Clallam County, Washington.
Click on graphic to enlarge.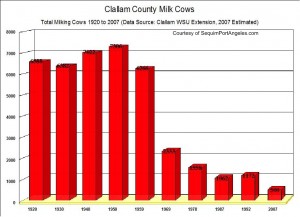 From a high of over 7,300 milk cows in 1950, we are now at about 500.   The small dairy farms have been going away in western Washington rapidly over the last decade.
Last Updated on August 2, 2008 by Chuck Marunde