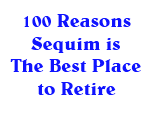 Sequim residents and many retirees have 100 reasons Sequim is the best place to live and the best place to retire, so sharing these with people thinking about making Sequim their home seemed like a good idea.  Because the list is lengthy, I have broken it down into four articles with 25 reasons in each article.  Here are reasons 25 through 50.
100 Reasons Sequim is The Best Place to Live
Sequim has Hurricane Ridge. Oh yea.

Sequim has medical facilities way above average.

Sequim has more Churches than taverns.

Sequim (and area) has local award winning wineries.

Sequim has many organic farms.

The Sequim valley has some of the richest organic soils in the U.S.

Sequim has eagles everywhere.

Sequim is the birdwatching capital of the Olympic Peninsula.

Sequim has one of the best school districts in the country.

Sequim has lots of horses.

Sequim has music concerts at Carrie Blake Park.

Sequim has a thousand serious quilters.

Sequim has the Olympic Theater.

Sequim has an Open Aire Market.

Sequim has Alpaca farms.

Sequim has Washington's best B&Bs away from all the noise.

Sequim has a deer behind every tree.

Sequim has two family run dairy farms.

Sequim has the Juan de Fuca Festival Street Fair.

Sequim has a Balloon Festival.

Sequim has the Dungeness Center Audobon Center.

Sequim has MAC Users Group (PCs are on their way out).

Sequim is the place for sail boating.

Sequim is a short drive to Sol Duc Hot Springs and Sol Duc Falls.

Sequim offers retirees water views or mountain views, or both.
People who move to Sequim find that the longer you live here, the more you love it.  Read 100 Reasons Sequim is The Best Place to Live (1-25), and stay tuned for the next edition.  If you have reasons you love Sequim, let us know with your comments.  Read reasons 51 through 75 of why Sequim is the Best Place to Retire.

Last Updated on December 21, 2019 by Chuck Marunde