It may be December 27th, the middle of winter, but it is Another Day in Paradise in Sequim, Washington.  After an enjoyable lunch at Stymie's Bar & Grill at the 7 Cedars Golf Course, I stolled on the beach at Port Williams Bay.  The sun wasn't shining brightly today in Sequim (I know, surprise surprise!), but the pristine breeze coming in off the water from the northwest reminded me that this is just another day in paradise. 
Another Day in Paradise on the Beach
Other couples were also strolling on the beach, several with their dogs.  Even the dogs looked happy.  Of course, I had to take this photo with my iPhone, and even on a misty overcast day, I had a very pleasant walk on the beach.  There was something about the mood on the beach on this day that made me contemplative and mildly content.  (Someone is going to want to know what "mildly content" is.  I don't know, but after typing that phrase, I like it.)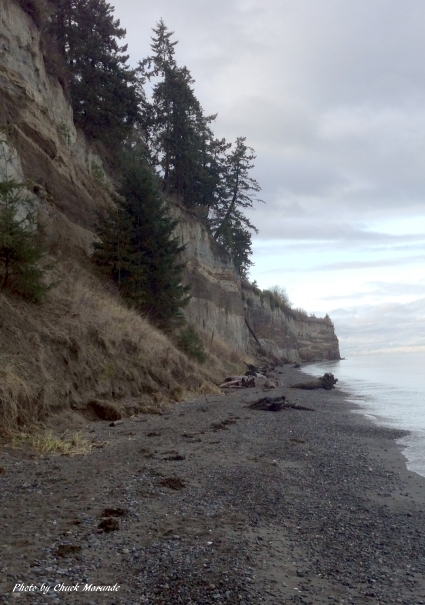 My walk on the beach was after lunch at Stymie's Bar & Grill at the 7 Cedars Golf Course.  Every once in a great while I enjoy a hamburger and fries.  Where's the best hamburger and fries in Sequim?  After today, I will tell you it is Stymie's Bar & Grill. 
It's Just Another Day in Paradise
I saw a client today in QFC shopping, and she told me how happy she and her husband are in their new home.  I represented them as their buyer's agent.  She shared how they had done some remodeling, and how much they loved their view of the valley of Sequim farmland, of the apple and cherries growing in their back yard, and how the same doe comes back each year to have a lamb on their property.  Her genuine happiness warmed my heart.
Life in Sequim is very good.  Thousands of retired couples have moved to Sequim over the past 20 years, and nearly all of them say what I say, "There's no place I would rather live in the entire world."  I say all the time, mostly to myself, "It's just another day in Paradise."
Another Day in Paradise
Read some of our reasons for living in Sequim with my article entitled "100 Reasons Sequim is The Best Place to Live." I'm not the only who regularly says that it's another day in Paradise.
Last Updated on September 2, 2019 by Chuck Marunde