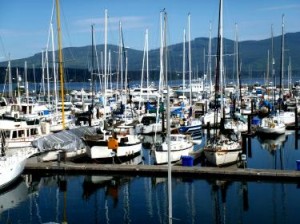 Sequim, Washington has been repeatedly ranked as one of the best little towns in the United States to retire in. Having raised my own family here, I can testify to the fact that this is a wonderful little community away from all the crime and traffic congestion that drives most of us crazy.
CNN Money Magazine named Sequim as one of the best places to retire.   "Located two hours north of Seattle, Sequim (pronounced skwim) offers a lower cost of living and an easier pace than its burgeoning neighbor to the south. For about $300,000, you can get a three-bedroom house there."
Sperlings Best Places [Sequim is the best place to live and retire]:   "I moved here from San Bernardino and San Diego, my uncle has lived here for 15 years and always bragged about it. So I checked it out. Best move I ever made. Beautiful, peaceful, deer, eagles, no crime. On the water across from Victoria Canada. Hiking, boating, don't have to lock our doors at night, only downside is 25 mph speed limit, will drive you nuts. We have Walmart and Costco, Home Depot, and peace and quiet."
Sequim – Best Places to Retire Video filmed at the John Wayne Marina in Sequim.
Sequim Resources website on Best Places to Retire – Sequim.
Retirement Resources in Sequim – All FREE.
Last Updated on January 12, 2009 by Chuck Marunde