If you are planning to buy real estate in Sequim, wouldn't it be great if you could have a book written specifically for you as a buyer about Sequim and Port Angeles real estate?  Every area has its own unique real estate issues, and this is an excellent resource that will reveal the most important issues a buyer faces in the Sequim area.  Buyers have been raving about this book since it was published in 2010.
Answers About Buying Real Estate in Sequim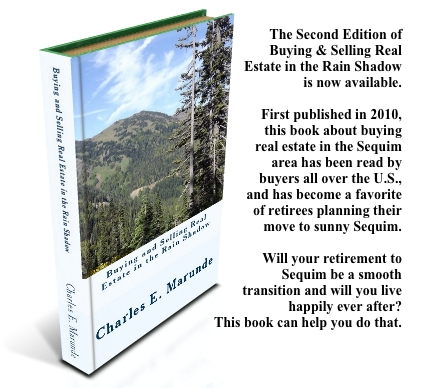 You don't have to become a real estate expert to buy your retirement real estate in Sequim, but most buyers want to know what the major issues are and how to stay out of trouble.  Who doesn't want a smooth retirement transition?  That means not only doing everything right, but it also means avoiding problems or what I like to call "traps for the unwary."  It's not hard to recognize that ideal home when you see it.  What is hard is recognizing the latent defects or the unknown potential problems that may be unique to real estate in Sequim.  This book not only walks you through the standard procedures and guidelines to help you do things right, it also makes you aware of the issues to watch for as you look at homes.
Keys to Buying Real Estate in Sequim
But there is much more to this book than just giving you guidelines and warning you about dangers.  It includes the experience of a 37 year real estate veteran with 20 years' experience as a real estate attorney.  Want to negotiate the best possible price and terms?  Want to know what mistakes buyers make over and over again?  Want to know how to select a professional real estate buyer's agent? Don't just hire the first agent to answer the phone.  Learn what to look for so you will be protected when you make an offer on your real estate in Sequim.
Real Estate in Sequim on Amazon
You'll find this 310 page paperback on Amazon.com for $29 and in many other bookstores by simply searching the title, Buying and Selling Real Estate in the Rain Shadow.  If you're planning to buy real estate in Sequim and will consider making Chuck your Sequim Buyer's Agent, you can request a free eBook version by emailing Chuck at chuckmarunde@gamil.com.
Last Updated on September 19, 2019 by Chuck Marunde