It's been a crazy Sequim winter as far as real estate goes. I've had some clients comment that I haven't been writing articles on my blog as much this Sequim winter, and that is true. I have been busy writing books and working on the next generation Internet tool for real estate, which is still top secret as we have not launched it yet. The reason I say it's been a crazy Sequim winter is because the inventory of the ideal retirement home is so low, buyers cannot find their home.
Sequim Winter Long
This was an unusually long Sequim winter. Normally by the end of February the sun is out and temperatures are in the high 50s and low 60s, and everything is blooming. But not this year. It snowed in February! What? Are you serious? After living here for 23 years I can tell you it was the longest Sequim winter I can recall, but summer just broke wide open, and the last two days have been sunny and hot. Suddenly the grass is growing like weeds, and everything is blooming quickly.
Many of my buyers who can't find a home have extended their home search beyond Sequim and Port Angeles to Port Townsend, Port Ludlow, and Port Hadlock. Over the years I've sold many homes in these areas. I've also shown homes on Marrowstone Island recently. I love showing beautiful homes, and we have so many gorgeous water front and high bluff views on the Olympic Peninsula and our neighboring islands.
If you want to have some fun, check out one of my websites showing all the home listings from the Olympic Peninsula to the Seattle shoreline and every island in between. These are some of the most expensive homes in the Northwest, and you'll find them at Luxury Water View Homes.
Sequim Winter Over
Thank God the long Sequim winter is over, and with the sun, buyers are eagerly looking for their perfect home. I just sold a home in Port Ludlow on a beautiful lake for $955,000. It's an incredible home, and the water view is beyond description. I'll share more photos in the future.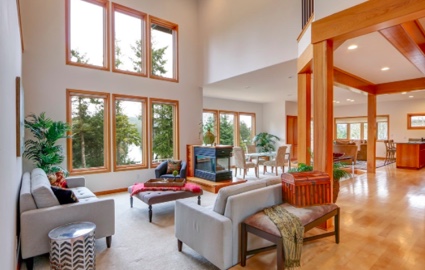 Meanwhile, I'm sure my Sequim readers are all out mowing their lawns this week after a long Sequim winter.
Last Updated on September 6, 2019 by Chuck Marunde