The Elwah Dam removal is all the talk around Sequim and Port Angeles lately.  The two big dams on the Elwha River are being removed after years of discussions and negotiating.  In fact, the upper dam, the Glines Canyon Dam, will be the largest dam ever removed in the U.S.  The lower dam, the Elwha Dam, will be removed also.  I took this photo of the Elwha Dam earlier in the year.
Elwah Dam Removal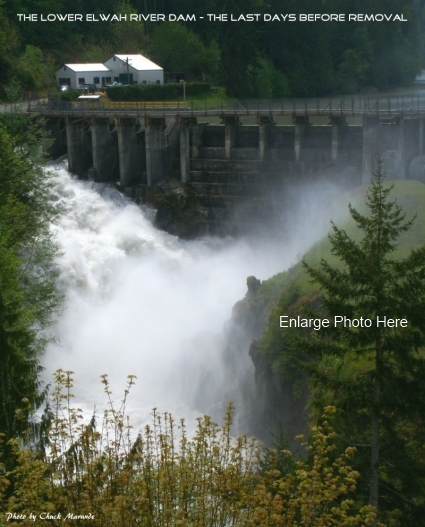 Elwah Dam and Glines Canyon Dam Removal
The removal is an interesting process.  The first step in removing the Elwha dam will be to lower the reservoir's water level by using the existing water intakes and spillways.  A temporary diversion channel will be excavated through the left spillway to allow Lake Aldwell to be drained.  Cofferdams, temporary structures acting as dams, will be installed to direct outflow into a temporary diversion channel. After all the water is drained from the lake, the dam can be removed and the original river channel restored.
The first step in removing the Glines Canyon Dam will be diverting water through the penstock to lower Lake Mills Reservoir.  The dam will be "notched down" on alternating sides to create temporary spillways that will be used to continue draining the reservoirs.  When the water is low enough, the dam will be blasted and the river channel restored.
Elwah Dam
Of course, the whole purpose of removing the Elwah Dam and the Glines Canyon Dam is to restore Salmon habitat.  We won't know for decades if it works.  For my part, I'll miss the Elwha Dam as I used to jog down the road to the dam periodically.