Flip or Flop Vegas is a very popular HDTV show. It's almost surprising how many people from all walks of life across America are passionate fans of these house flipping shows. Flip or Flop Vegas is the last edition of young couples buying trashed houses, remodeling them, and then flipping them to buyers in the shortest time possible. But here's why this HDTV show comes home for me. My own son Bristol Marunde and his wife, Aubrey, are the stars of the newest Flip or Flop Vegas.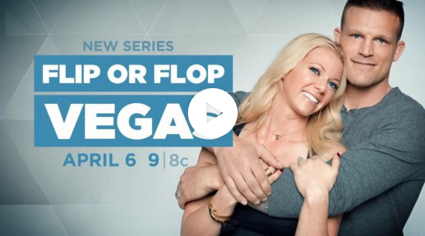 Flip or Flop Vegas From Sequim
When Bristol was very young, we lived in Las Vegas where I was serving in the USAF at Nellis AFB as a JAG. We moved to Sequim 22 years ago when Bristol was in 6th grade. I never had a car in my garage, because I turned it into a weight room for my boys. Bristol's older brother, Jesse, became the second strongest man in the world in Chengdu, China, and Bristol became a world class mixed martial arts fighter. 
He moved back to Vegas, because that is the fight capital of the world, but that's where he met Aubrey. Of course, they married, had the two cutest boys on the planet, and began to flip houses together. Aubrey was a Realtor, so with Bristol's brawn, they make a great team for Flip or Flop Vegas. I like to call them "Beauty and the Beast." My daughter-in-law is one of the prettiest girls in the world, and my son is one of the most dangerous men in the world. 
Flip or Flop Vegas & Real Estate Investing
The first two weeks of Flip or Flop Vegas have been great, and if you want to watch the rest of the HDTV series, tune in on Thursday evenings. Check your local listings to see what time it broadcasts in your area. It's a lot of fun to watch, but especially for me with my son and daughter-in-law starring. Who would have guessed they would one day be on a popular national TV show, Flip or Flop Vegas?
Last Updated on September 6, 2019 by Chuck Marunde