Fame and fortune are not all they're cracked up to be, and let's face it, in our culture fame and fortune are constantly promoted as the keys to happiness and a wonderful life. I've spent time with several Hollywood success stories who lived that lifestyle for decades and now live in Sequim, Washington. What they told me, not only about their own experiences, but about many of the biggest names in Hollywood, is extremely revealing. In this article I'll share what I learned.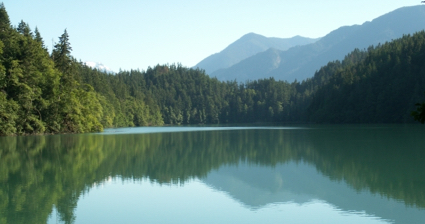 The Fame and Fortune Culture
Our culture worships the rich and famous. We honor them with awards and ceremonies. We are bombarded and brainwashed with the idea that we should pursue fame and fortune, and many of us spend our lives in that pursuit. But what do the rich and famous actually say about all this? In their most private moments of honesty, what do they say about living a life of fame and fortune? Is it really all it's cracked up to be?
Living in a mansion sounds great. Owning a sports car collection would be cool. Flying your own jet would be very cool. But imagine never being able to live a normal life, not being able to go to a store or a mall, or never being able to go to a coffee shop or a restaurant. Imagine if you could never go out in public and walk around freely. I asked one Hollywood "success story" if it was like being imprisoned, and he said, "That's exactly what it is. It's a prison, and you cannot escape."
I'll share in this article how famous people do find peace and contentment in a place like Sequim, Washington. They are living a rich life, but this time it is a different kind of riches.
The Fame and Fortune Myth
There is a crazy myth that fame and fortune brings happiness, but it may actually be the opposite. "Being asked for your autograph and having to answer the same questions the first 100 or 200 times feels cool, but eventually it repulses you, and you start to hate all the attention," one actor and producer told me.
What if you had no life of your own? What if you did not have the freedom to live your life on your own terms? I sat with one Hollywood legend who is older now and not recognized in a small town like Port Townsend (near Sequim). He shared how the truly rich and famous lose their identity in their persona. Remember Michael Jackson? He grew to hate his life, and yet he was one of the most famous and richest people on the planet! Even if he could have hit the emergency brake and transitioned to a quiet and peaceful life in a place like Sequim, Washington, he would not have known how. That's what fame and fortune did to him. It destroyed him.
I'm tired of being famous already! But I'm not tired of creating. Fame is, I think, just a disgusting by-product of what I do. Katy Perry
Many in Hollywood wish they could have their privacy and freedom back, but they cannot. Once fame and fortune own you, you cannot disown them. Very few Hollywood elites have been able to maintain normal behavior and a normal lifestyle. Elvis Presley was trapped in fame and fortune, and prescription drugs were his way of coping, but he didn't make it. The list of actors/actresses and musicians who didn't make it is long. In the process of gaining fame and fortune, they lost their own personal identities, and they couldn't find their way back.
Do you think Sylvester Stallone is free? He is famous and very wealthy, but free he is not. How about Arnold Schwarzenegger? Or Meryl Streep, Ashley Judd, Alec Baldwin, Barbra Streisand, or Charlie Sheen? All are amazing actors and actresses, and all are rich and famous, but none are free to live a normal, peaceful, and happy life like the rest of us.
One actor told me, "Many of my Hollywood friends would give anything to have a quiet and content life in a place like Sequim." 
Why Sequim, Washington? For many in California, the first step is to escape from the masses, the traffic, the crime, the culture of pursuing fame and fortune, and all the stress of living in California. The second step is finding a geographic area without temperature extremes, a pleasant climate, and a rural area far from the autograph hounds.
I fought the idea of having security for a very long time, because I really value normalcy. I really do. I like to be able to take a drive by myself. Haven't done that in six years… Taylor Swift
One actor who has worked with all the big names in over a hundred movies told me he valued privacy and would want to have a property where he could not be harassed. I was blunt with my answer, but he laughed when I responded, "The people who retire to Sequim are in their 50s and 60s, and they could care less about fame and fortune. They wouldn't even ask for an autograph, because it has no value to them. They may appreciate you as an actor, but their next decision is probably about whether to buy the heavy duty toilet paper or the super soft touch at Safeway." 
A few actors have successfully escaped California and now live in the Sequim area. Don't bother trying to find them. You won't find their names on any properties. Having been an attorney, I help wealthy buyers buy their real estate anonymously and no one ever knows where they live or even that they live here. Even if locals knew, they wouldn't care or bother anyone. James Brolin and Barbara Streisand were eating at a local restaurant (Dupuis' between Sequim and Port Angeles) a few years back, and while some customers recognized who they were, no one went to their table or said anything to them. It was nice to see them, but no one puts the famous on pedestals here.
Sequim is one of the most beautiful places on the planet with the Strait of Juan de Fuca and the Islands (and Canada) to the north, and the stunning Olympic Mountains to the south. That also creates the famous Sequim Blue Hole or the Sequim Rain Shadow, which translates to 16 inches of rain every year–the same amount of rain Los Angeles used to get. This is one-third the rainfall of Seattle. Boating, fishing, hiking, enjoying nature, and a hundred other recreational activities add to our quality of life.
If a person needs to see the big city, Seattle is only two and a half hours away, and Sea-Tac International Airport is a two hour drive from Sequim, so you can fly anywhere in the world with ease. If you have a private plane or helicopter, you're only 25 minutes from Sea-Tac. 
So if you want to make the transition from living a life of fame and fortune, escape from California, and live in Paradise, aka Sequim, and enjoy a life of peace and contentment far from the noise and craziness of Hollywood, call me at 360-775-5424. Life in Sequim is wonderful. As a friend of mine says, "I guarantee it!"
Last Updated on September 6, 2019 by Chuck Marunde