Choosing the right escrow agent for your real estate transaction is more important than most people might realize. Your choice of an escrow agent is one of several vital appointments you will make between the day you reach an agreement with a seller and closing (aka close of escrow, aka recording). Does it really make any difference who you choose as your escrow agent? It can. Here's why.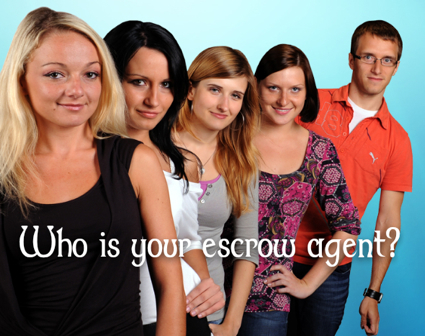 Escrow Agent Selection
On this real estate blog I don't spend a lot of time on the obvious. That's not what readers like you need. What buyers and the thousands of readers of this real estate blog need, and one of the reasons they keep coming back and faithfully reading the over 1,600 articles on this site is because I share the not-so-obvious, the unknown, the traps for the unwary, and the behind-the-scenes real estate secrets and tips that can make all the difference in your real estate transaction. I want you to have the benefit of my 37 years of real estate experience, including 20 years as a real estate attorney, so you can have the best transaction possible. So I keep giving it all away free right here. Literally millions of people have read the articles on this site since the first article was published on July 1, 2007. So today for the first time, I address the importance of your escrow agent selection.
Escrow Agent – The Vital Skills
I don't know an escrow agent who doesn't know how to prepare a closing statement, including the appropriate debits and credits and pro-rates, and hot to handle the mechanics of coordinating the escrow from beginning to end. So let's get past the obvious that your escrow agent should know the mechanics of doing their job. The really vital skills that few people realize are so darn important in every real estate closing are the subjective skills of the escrow agent that can make all the difference in how smoothly or how stressful a transaction can go when there are bumps in the road.
These skills are not mechanical. They are relationship skills. They involve experience, discernment, discretion, wisdom, and excellent communication skills. The greatest challenge in a real estate transaction, once price has been agreed upon, involves relationships, and in a high stakes game with a buyer on one end and a seller on the other end, both trying to get everything they can out of the other, and when third parties are involved that often create issues for everyone (like lenders, home inspectors, septic inspectors, well inspectors), the escrow agent is often thrown into the middle of a dispute, and this is when the escrow agent had better have finesse and outstanding communication skills with all parties. Some do not, and that's what buyers like you won't know until you've had a bad experience, and then it's too late. 
All escrow agents know they should not take sides in any dispute. Their role is an objective role. But too many times I have seen an escrow agent subtly support one side or the other, most of the time not intending to take sides at all. Such lack of discernment can cause tremendous problems in the middle of a high stakes, stressful real estate transaction that may balance on the precipice of closing or not. Good people can get hurt, and I've seen it many times. So the selection of your escrow agent is no small matter. [Every escrow agent claims objectivity, but discernment and wisdom are not common place.]
And just because your real estate agent inserts their favorite escrow agent into your agreement, or tells you that you should select a certain escrow company, does not make this issue go away Agents often build a relationship with a particular escrow agent, and then become blinded to the relationship issues that affect clients. If that agent gets all the warm fuzzies they need in their relationship with that escrow agent, they most likely sincerely believe that escrow agent is good. I've seen agents misinterpret the skill levels and discernment of escrow agents, and I've seen real estate agents insist that their favorite escrow agent close the transaction for the wrong reasons.
In real estate if everything goes smoothly, and there is not one single problem, and you get all you wanted, then after closing, who cares who the Realtors were, and who cares who the escrow agent was, and who cares who the inspectors were? It wouldn't matter what any of their skill levels were or how good they are or are not. May you be so lucky as to have the smoothest of transactions. In a different transaction, the wrong person on your team can contribute to creating or inciting a nightmare scenario for you. Your transaction can be fraught with unnecessary battles, or the transaction may die. You do not need that. For these reasons the selection of your escrow agent is very very important.
Last Updated on September 22, 2019 by Chuck Marunde