How many Sequim homes are under contract now?  That reminds me of a couple of other popular sayings, like, "Are we there yet?" and "Can you hear me now?"  Are Sequim homes selling and how many are selling?  Buyers appreciate the buyer's market, but sellers are losing sleep over whether the housing market is beginning it's recovery.  Sellers cannot help but get a little impatient with their listing agents, because for too many sellers nothing seems to be happening.
Sequim Homes Under Contract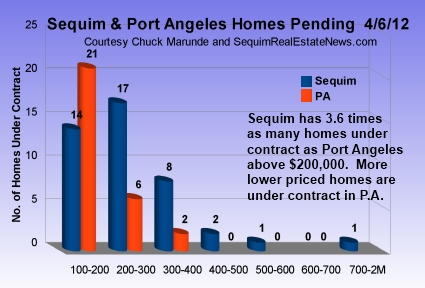 Sequim Homes Pending Interpretation
The homes represented in this chart are pending sales, also known as homes under contract, or in our MLS "Active-Under-Contract."  There are 14 Sequim homes pending in the price range of $100,000 to $200,000, and there are 21 in Port Angeles.  This is the only price category in which P.A. beats Sequim.  More lower priced homes are selling in P.A. than in Sequim.
But above $200,000, clearly buyers prefer Sequim homes.  In fact, right now over 3.6 times as many homes have sold in Sequim compared to P.A. above $200,000.  And above $400,000 the four pending transactions are all Sequim.
Sequim Homes Preferred
Retirees prefer Sequim.  That is clear, and I've been writing about that trend for several years.  Retirees want Sequim homes.

Last Updated on April 7, 2012 by Chuck Marunde