John Wayne Marina in Sequim, Washington is a special place, but not just for cabin cruisers, sailboats, and kayaks.   It's also a special place to walk and enjoy the views and ambiance of autumn.   The leaves are changing colors, and there's a chill in the early morning air.   The afternoons often warm up in the glow of the sun in our Rain Shadow as shown in this photo of John Wayne Marina.   Yes, that's a couple in love on the beach.   Oh, to be young and in love again!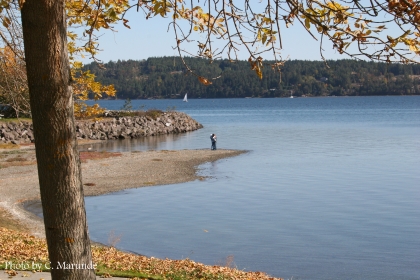 There are many homes around and above John Wayne Marina, which makes the water view something to behold.   We are blessed here, because water views of this kind are a mere pittance in price compared to much of the California coast and even on the Seattle side.
Read more about Sequim as one of the best places to retire and watch a video taken at the John Wayne Marina in Sequim.
Last Updated on July 27, 2012 by Chuck Marunde