I'm very pleased to announce a new Sequim MLS search online that I have programmed into search categories that hundreds of buyers like you have been using and have requested.  You can search by your own parameters of course, but you'll find links to categories you would likely search.  If you browse the site for a bit you will begin to see many subtle but powerful features that help you find and filter and save your Sequim MLS search results.  One feature that I haven't seen on any other MLS sites is that this site shows you if a property is "Under Contract," or sold.  The site is really beautiful and who doesn't like nice graphics and easy navigation while doing your Sequim MLS search?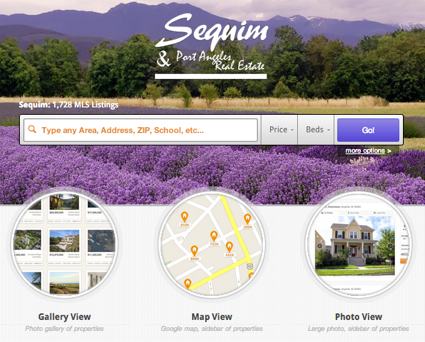 You can contrast this new site with my reliable and powerful Sequim MLS site that thousands have been using for years, which will remain online because it has different navigation and functionality.  It also includes all the listings from both the OLS (Olympic Listing Service) and the NWMLS (Northwest MLS).  Try both sites and see which one you like better.  But spend time navigating and using both sites before you decide, because there is much more usefulness and power beneath the hood than meets the eye at first glance.  For this site go to Sequim MLS Search, or click on the image below.
What is Your Favorite Sequim MLS Site?
If you pick up a pattern from this real estate blog with over 1,400 articles, that pattern would tell you that I constantly labor to give my buyer clients the most powerful search tools, the easiest Internet sites to navigate, and the most reliable content-rich Sequim real estate information.  I make myself available by email and cell phone 7 days a week for buyers, and I love doing it.  This brokerage has set records for so many firsts, I can't remember the precise number.  This is another first–a brokerage with two different Sequim MLS sites, both with a little different navigation and purpose . . . all to make the task easier and more enjoyable for buyers.  Please check out my new Sequim MLS site and let me know with your comments below what you think.
Last Updated on September 19, 2019 by Chuck Marunde