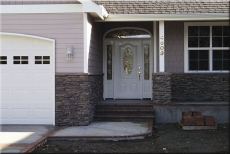 Many people plan to build their home in Sequim or Port Angeles, but do not know how to select a good builder.   The following is a true story.   The names have been changed.   I have to be careful about slander or defamation, so I don't mention anyone or any companies.     I heard many stories just like this during 20 years of law practice, and I've written extensively about builders who misrepresent the cost of construction.   Unfortunately, the majority of good people still think the lowest bidder is the contractor to hire.   Only after great stress and a lot of extra money do they ever begin to admit to themselves that they chose the wrong builder.   Why do people keep going down that path like sheep to the slaughter?   After all these years I think I now know why.   People simply don't believe articles like this.   They don't believe I'm telling the truth.   Well, you decide for yourself if you think this true story is relevant to you.   I have inserted some relevant comments where appropriate.
Question:
Hello, My name is Tom Jones. Last year my wife and I purchased a lot in [city deleted] in hopes of building our retirement home. After interviewing and dealing with several contractors in the area, we were not convinced that they could build our home as we wanted it, since we do not live in Washington.   We needed them to communicate effectively and constantly with us about the project and budget.
We went to our real estate agent (and friend)   for advise and to suggest a builder.   He did suggest one and we made contact with the builder.   He seemed friendly and honest [they all do, and some of the slickest ones are extremely good at winning you over], was willing to work closely with us on communicating and about budget.   [Of course they'll all say they will do this.]   He did seem to have some unconventional estimating methods [red flag] and at times a bit headstrong [red flag, your builder is working for you, not the other way around] and vague [red flag] when confronted about the pricing.   [You should have walked away right then.   Seriously.   Vague on pricing means he intends to jack up the costs without your agreement in the beginning, but once he has your John Henry on that contract, he's got you.   And he knows that.]   At one point, a $3000.00 16'x8′ insulated garage door finally got reduced to $1600 after I told him I refuse to pay the $3,000 and the company that makes the door would do it for $2,000.   I have done some related work to contracting in my lifetime, so I do understand some of the "quirks" each contractor has.   ["Quirks" are not acceptable.   Honesty does not require quirks of any kind.]
Anyway, During our meetings we would discuss other parts of the project, like landscaping, concrete work, interior trim finishes, and so on.   One area of discussion was regarding a driveway. His suggestion was to put in gravel, however the CC&R's state that you can only have concrete or asphalt. [This lack of attention by the builder could have gotten you into an expensive problem, since the builder would have put you in violation of the CC&R's.]   On our last contact, we discussed   getting a price for concrete and signed a contract.   [Never sign a contract with a builder without knowing the exact price to build the home with everything included, and only sign with a builder who guarantees the contract price in writing.]
Being a few weeks away from closing on my construction loan, I kept inquiring about the driveway cost. Finally, the day before I was to sign loan papers, I received an email stating that the driveway would be a minimum of $4,000, but could be as little as $1500.   That didn't make sense.   [Of course, it didn't.   Red flag, red flag.   Folks, this nice person who is apparently honest and was trying to get a good builder for his home, has had many red flags.   These red flags don't keep popping up with a builder who has integrity and is absolutely honest with you from the first email or the first meeting.]
After this huge discrepancy on the driveway costs, my wife and I discussed our options and decided that we were not comfortable with all this and decided not to sign the loan papers. The next day, we received a phone message from the builder and he wants to start digging for foundations tomorrow. I informed him that there are no funds, as we did not sign loan docs and there is not enough money in our personal account to cover the driveway, moving expenses, window coverings and any other expenses that would be necessary to move in.
We ended up paying $1,800 to settle or what I assume made the contract null and void.   My wife and I are not sure what we can do now. Can we try to hire another contractor to build our home without any repercussion from this one?   [That depends on your contract and whether your builder signed an agreement with release language and with no other rights to sue or be sued.] What happens to the building permit, is it in his name, Can we change that? How long do they last?   [Again, that depends on the builder and how he applied for the permit, but if he did it right the permit should be in your name on the application and he should only be listed as the contractor.] I am sorry for rambling on in this email, however we are both upset about the turn of events and are not sure that [city deleted] is right for us to retire in. [Wait a minute.   You are going to decide whether or not this area is the right place to retire for the rest of your life based on a bad contractor you hired?   You got stuck with a bad builder, but I will shout from the mountain tops that there are more wonderful and kind people in this area than any place I have ever lived, and probably more than where you live now.   Don't make an irrational decision on where you retire based on one bad person.   My goodness, find a place in these United States where everyone is perfect and absolutely honest, and you are in another galaxy my friend.] Any help or advice will be greatly appreciated.
Answer:
I read your email.   I'm sorry to hear you had such a nightmare with a builder.   I'm not sure who your builder was, but believe it or not, this is a very similar story to what I've been hearing for 20 years.   One of my passions is trying to help people who are planning to build their next home connect with a good, honest, and competent builder.   While that seems pretty simple, it is a process that is full of traps, and there are many wolves in sheep's' clothing out there who will say anything to get customers to sign a contract.   The checklist of little tricks and deception is very long.   I'm sorry you had such a bad experience like this.   [See my notes as part of this answer inserted in brackets inside the question above.]
On the other hand, I think it is good that you are out from under that contract, so you can move on, even if the builder did extort a fee from you.   As far as moving on to a new builder, I have a couple of thoughts.
Many professionals in my business are asked for referrals to a builder, and for some odd reason they think they have to give three names, including the one they know is the best and two others they don't really want to recommend.   Why do they do this?   Well, some are thinking they have to because of liability reasons.   They don't want to be responsible if a builder does something wrong, and they think it could come back to bite them.   Poppycock!   If I know the best dentist, I'm not recommending two others who don't deserve the referral.   If I know the best doctor, lawyer, accountant, or auto mechanic, I will recommend that one.   I owe that kind of honesty to the person who asked for my opinion.   So I will boldly recommend a builder here.   So what if I offend other builders.   You're reading this article to get the truth, not some watered down version of what I think is "safe" to share.
A builder I love to refer people to because of his absolute integrity and because he never ever mistreats clients is Rick Anderson.   Let me be absolutely honest and share a small frustration.   Rick has lost clients that I know of because they got a lower bid from someone else who made promises that sounded good, but what the customer did not know is that comparing Rick's estimate or project manual with one of these other builders is not comparing apples with apples.   It's very easy for a builder to generate a lower bid.     In fact, they will do it every time.   It's easy to do by just cutting something out or using an inferior material.   So if it is a lower bid you're shopping for, I can guarantee you will find it.   But Rick has never misrepresented the true cost of work just to get a client to sign a contract and then keep sucking more money out of the client like so many builders do.   By the way, Rick never talks this bold about himself or his company, but I will–for your sake.   I can tell you after 20 years of law practice that the lowest bidder is often the most expensive builder by the time the house is completed, unless you're building a cracker box with the cheapest material.   Even most, if not all, of the builders who do build cracker boxes misrepresent their cost per square foot just to suck the clients in the front door.   (A former employee of [name deleted] wrote on a Seattle blog that in the hundreds of homes that were built while he worked there, not a single home was ever built for the advertised $38 per square foot.   Not one.)   Rick guarantees his contract price and people always know what they are getting from the beginning.
I think it would be fair to say that some people who hired a builder with a lower bid often end up paying more than they would have if they would have hired Rick in the beginning.   One other huge factor that is true, but again people don't seem to know this, is that the process with Rick is almost always much smoother and happier for clients, AND the finished product is of a much higher quality.   I could give you a lot of evidence on the quality issue, but not in this short answer.
If you have a house plan already, why don't you email or send it to me, and I'll ask Rick Anderson to go over it and see what he can build it for.     He is very enjoyable to work with. By the way, don't make the huge mistake some people make.   They go to Rick Anderson and get an estimate, and then they go to a couple of other builders and get a lower estimate and immediatley hire that builder with the lowest bid WITHOUT going back to Rick for an honest comparison.   Remember, you will always get a lower bid.   That's easy for them to generate.   Don't you want an honest comparison?
Chuck E. Marunde, J.D.
Broker/Realtor
Sequim & Port Angeles Real Estate, LLC
618 South Peabody St., Suite I
Port Angeles, WA   98362
360-775-5424
Last Updated on March 28, 2009 by Chuck Marunde