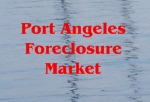 Buying a home in Port Angeles or Sequim right now would undoubtedly take advantage of one of the best market opportunities buyers have had in decades, but one area that creates confusion is the foreclosure market.   Buyers ask me regularly if they can get an extraordinary deal buying a foreclosure.   There are foreclosure stories galore about people picking up a 3 bedroom, 2 bath home for $105,000 in Vegas, or a 4 bedroom home on 5 acres on the top of the mountain in California somewhere for $245,000.
Port Angeles and Sequim simply don't have a big foreclosure market to take advantage of.   Sure there are some foreclosures here, but very few, and the foreclosure records (data bases) here are in total disarray.   You can't access the volume of information here on a foreclosure that you can in most areas of the country.   Foreclosure.com is the largest foreclosure website, and I have a monthly subscription I pay for the benefit of my clients.   Unfortunately, they do not have a signed agreement with the Clallam County Auditor's office to bring all the real estate information into the Foreclosure.com database.   They could, but we are too small and too far out of the way to prioritize.   The same of true of Realty Trac and all the other foreclosure services.
Even if you find a foreclosure, if it is a nice home you would want to live in, it is likely to never make it to the Trustee's Sale, because the owner will either borrow money from a friend or family member to pull it out of the foreclosure process, or they will sell it to someone they know or to an aggressive investor who spends 40 hours a week looking for that home.   The foreclosure market here is very small and the real opportunities for buyers are very limited.
There are far more opportunities with homes listed in the MLS here, which includes homes that were foreclosed and are now on the market for what may be less than the original balance.   That could mean a short sale, and that could end up being a good transaction.   But notice that these listings are simply in the MLS, like all other listings.
My recommendation is that you search the MLS for your ideal home.   If you don't find it, you may want to consider buying a lot at the current garage sale prices and have your dream home built by a good builder.
No matter what you are looking at, may I save you time and stress (and potentially a lot of money)?   I've been doing this for almost 30 years now, including 20 years as a real estate attorney.   I've seen a lot of people over the years spin their tires and waste money and time when they could just email me or pick up the phone and get simple answers without any charge at all.   There's no downside to that and a lot of upside for you.   Anything I have learned or experience is yours for the asking. Why would I make such an offer?   Because I hope that by being generous you may consider retaining me as your buyer's agent.
Where can you find the best MLS search?   Here.   Search the Entire Sequim MLS and the entire Port Angeles MSL.
Last Updated on April 21, 2009 by Chuck Marunde