There has been a serious issue with private road maintenance agreements in Washington state. This issue has been unresolved for years now, and it can kill a buyer's loan and kill the sale of a home for a seller in the Sequim area. I recently received this inquiry from a reader of my Sequim Real Estate Blog.
"Good morning! Is there still an issue with private roads & shared driveways & easements requiring Private Road Maintenance Agreements in WA state? I'm finding many properties in Sequim that have easements / shared driveways and am wondering if this situation still comes up. I am under contract to purchase a SFR via conventional loan that is awaiting appraisal. Of course the subject property has an easement / shared driveway / private road. I do not believe there is a PRMA in place. Your blog is great, super informative and highly specific to Sequim and the Olympic Peninsula. Thanks so much for making your vast knowledge available to everyone."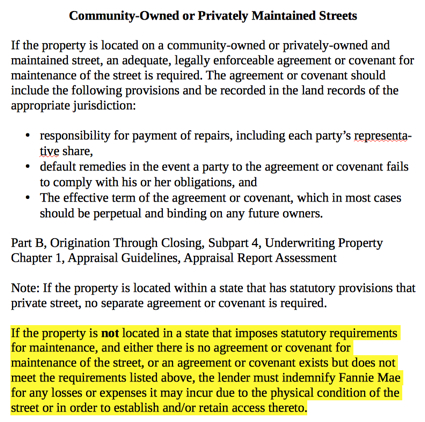 Private Road Maintenance Agreements
Here is my answer to the question. Glad you find my real estate blog helpful. This blog is how I market to prospective buyers around the country, and it gives me a sense of satisfaction taking a lifetime of education and experience and giving it all away to buyers now.
As you will see, it is slowly working its way through the house and senate once again.
Private Road Maintenance Agreements Original Article and History
If you would like to read the original article with the full history and issues involved that can kill a buyer's loan (and kill a seller's sale of their home), go to Private Road Maintenance Agreements.
Last Updated on September 6, 2019 by Chuck Marunde