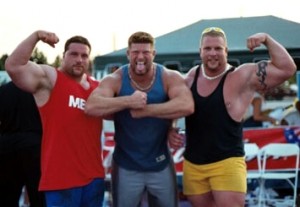 Building a home in Sequim or Port Angeles?   Finding a home builder for your next home is one of the most important decisions you will make as you start this next phase of your life in retirement.   This is part two of a two part series that asks the question, "Does Size Matter?" when it comes to hiring a home builder.
[This photo was taken by me at the St. Louis National Strongman Contest a number of years ago.   My son, Jesse Marunde, is the entertainer in the center.   Jesse died of a heart attack last year in his Sequim gym.   He was big at 6'5″ and 320 pounds.]
In part one, we looked at common misconceptions when hiring a builder, and we looked at the pros and cons of hiring a small builder.   Today, we look at hiring a larger home builder.
A large builder in Pierce or King County would build hundreds of houses each year, but in small towns like ours, a large builder would be someone building perhaps 8 to 30 houses per year.
I would categorize large builders based on criteria like their business model, their customer service, the quality of materials used, the quality of workmanship (i.e. the quality of their subs), the process by which they quote estimates and final bid prices, their contracts, their warranties, and their integrity.
Volumes could be written just on these criteria, but this is a blog post, which means it gets down and dirty quick.   The question, the answer.   Let's get to it.
Business Model. Large home builders around the country have learned to create a business model that is a money machine.   Now this is America, home of the free and the brave, and we boast about our free enterprise system.   That's all good.   And there's nothing wrong, and everything right, about having a corporate goal of making money.   But many builders have taken this to levels unheard of 30 years ago.   Slick advertisements that often border on fraudulent advertising, bait and switch, and lopsided contracts are very common among many large builders.   From the beginning of the first meeting to the walk-through, there are a thousand ways to maximize every dollar of profit to the detriment of the unwary homeowner.
Large home builders with what I would call a "money machine" business model, have one overriding goal, to make lots of money.   You, the client, are not the focus of their business.   They will tell you that you are, but in many cases, that is smoke and mirrors.   More about money under "Price Quotes."
Good builders fully intend to make money.   That's good.   But they also have a business model that does not put them at the center of the Universe.   This is a huge distinction, and it will impact every aspect of how and when your home is built.
Customer Service. For some large builders customer service is all important.   It is everything.   But for the money machine builders, customer service is a tedious obligation.   You won't find this out until after the honey moon is over, because up front everyone is all smiley and super friendly.   Then once the contract is signed, and construction has been underway for a period of months, you will feel like an alien when you try to communicate with your builder.   For the good builders, you will feel important, and you will get attention, even if it is a little slow in happening.   How your builder treats you personally is a huge sign.   Read the signs.
Quality of Materials. There is a vast difference in the quality of materials used, and here is something you may not know.   I learned that it takes a trained eye to recognize the difference between a home with high quality materials and workmanship, and a home without.   In fact, it takes years to develop the "eye" to see these things.   I've seen inexperienced and good, honest, folks walk through a house with cheap materials, and even poor workmanship, and they are saying things like, "Oh, this is nice," or "I like this floor plan," or "This is beautiful."   They just can't see the differences.   If you spent a couple of hours pointing them out, they could.   But without the help, they don't.     Money machine builders know this, so they can get away with murder by using cheap materials and hiring cheap labor.   Good quality builders know that you won't know the difference at first, but they have a commitment to integrity, and they have a commitment to building homes with quality that will last for years to come.
Quality of Workmanship. Some large builders will either hire the cheapest subcontractors, or they beat up the subs so bad that the subs have to find creative ways to cut corners.   Happens all the time.   I'm not making this stuff up.   Good builders have long term relationships with the best subs they can trust to do consistent good work.
Price Quotes – Price Per Square Foot. Here is where the money machine builders will suck people in.   Low low low low estimates advertised, but no reality.   The low ball quotes in advertisements will   get people to come in.   Once they are in, a very smooth salesman shows them the basic plans, but of course, the clients always want more than is in the basic plan, and so the price per square foot creeps upward.   Still, the builder is lower than most builders, so a contract is signed.   Then the gamesmanship of the money machine continues.   There are extras, there are change orders, there are surprises (are they really surprises for the builder, or did they know perfectly well such a "surprise" would come along), all of which add to the final project price per square foot.   Hmm.   That price per square foot was about the same as the other builder who gave an honest quote to begin with.   Unfortunately for many homeowners, this is the school of hard knocks, and more money from your wallet.
Contracts. I've had to litigate contracts, and many large builders use air tight contracts their own laywers drafted, so that your hands will be tied if you ever have a dispute with the builder.   It should be no surprise that judges end up ruling in favor of the large contractors most of the time.   A good builder uses a solid contract, but it is not one-sided.   More importantly, you won't end up in a legal dispute with a truly good builder.
Warranties. A one year warranty is typical, but here is something very interesting, and which seems to escape most of the public when they are shopping for a home builder.   Some builders boast about their warranty team, and how they send their warranty team out to fix anything and everything that goes wrong.   Okay.   I have one question.   If the home is built so well, why is a warranty team needed to run around fixing things so much in the weeks after a homeowner moves in?   I know a builder who does such good work, a "warranty team" would be like the Maytag repairman.
Integrity. Intergity is something most people cannot see or define in a person in the first meeting.   But integrity goes deep to address all of the issues we've mentioned and a lot more.   The money machine builders are not focused on integrity.   They are focused on making money.   Of course, they will use all the right words in terms of honesty, quality, and they'll even give you some glowing past client testimonies.   Every builder has someone who is happy.   What is the best way to figure out if your prospective builder has integrity?   Talk to past clients, and to people who know this builder.   Dig and do your due diligence.   But be wise.   The thing is, when your dream home is built, you want to be the one who is happy, because you hired the best builder, not the one who quoted the lowest price per square foot.
Read Part 1 of this 2 Part Series on Selecting a Custom Home Builder in Sequim or Port Angeles.
Last Updated on September 2, 2019 by Chuck Marunde