The Sequim and Port Angeles Home Sales Report is brought to you by Chuck Marunde.  We are closing in on the end of 2009, so how do monthly home sales look this year?  Here's a chart showing monthly home sales comparing Sequim and Port Angeles site built homes sold in the price range of $200,000 to $500,000.  This would include the vast majority of homes sold in our area.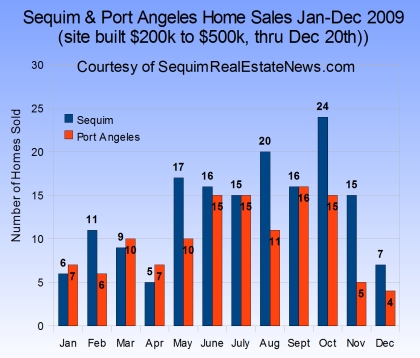 Of course, it is no surprise that November and December are slow.  These are the slow winter months when buyers have turned their attention to family and to the holiday celebrations.  November through March tend to be the slower months as shown in this chart.  This year sales did not perk until May, but if the economy is healthy or on the mend, we could see buyers making their move in March of 2010.  We did see an unusual spurt of buyer activity in October, rather late in the year for so many buyers to make their close.  The increase in sales of homes in other parts of the country, low interest rates, and the $8,000 tax credit were all factors.
Some who are planning on buying here in the spring would be wise to make their move now when they won't be bidding against so many other buyers.  If there is a time of year when the buyer's negotiating power is at its highest, that time is now.
Last Updated on July 27, 2012 by Chuck Marunde