The Sequim Blue Hole really does exist.  Some call it the Sequim Rain Shadow.  Whatever you call the unique Sequim weather patterns that give us  one-third (1/3) the rain fall of Seattle, we love it.  On a day when it is raining in Seattle like cats and dogs, quite often you drive through an invisible wall into the Sequim blue hole and suddenly it stops raining.  I have personally observed this many times over the past 18 years.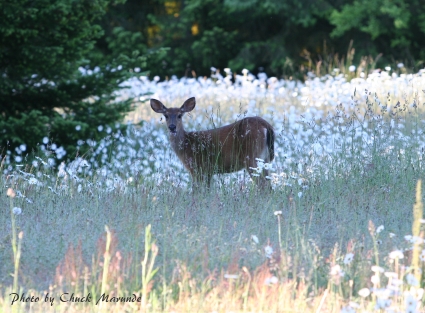 Sequim Blue Hole aka the Sequim Rain Shadow
The Sequim blue hole is within the rainshadow of the Olympic Mountains and receives less than 15 inches of rain per year—about the same as Los Angeles.  The Sequim blue hole has become quite famous around the country and has been written about in numerous retirement and travel magazines for 20 years.  We do periodically see some fog and cool breezes from the Juan de Fuca Strait, and that is one of the reasons we have such fresh clean air on the Olympic Peninsula.
Sequim Blue Hole Inviting
Sequim is inviting, and this time of year is just absolutely beautiful.  I took this photo above early this morning.  The sun is shining and the deer are out eating breakfast in front of my house.  The Sequim weather is mild year around, but the Sequim blue hole really does exist.
Last Updated on September 19, 2019 by Chuck Marunde