What have Sequim home values done before and during this recession?  What is the trend for home prices in Sequim and where do we stand today?  I had a client call from California to ask me my opinion of the value of her home.  She paid $300,000 for it in 2007, and yet today it is worth much less, almost precisely the tax value that the Clallam County Tax Assessor gave it this year, which is $186,000. [Read the full story at Did I Pay Too Much For My Home?] The County assessed values are not always right on.  Sometimes they are high, and sometimes they are low.  In this case I think they got it right.  And I've been surprised at how many times the County Assessor has got it right.
Sequim Home Values and County Tax Assessments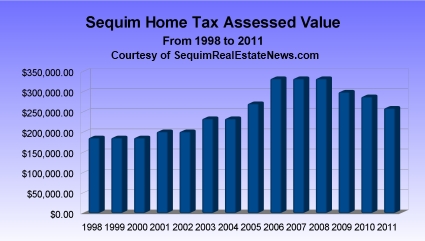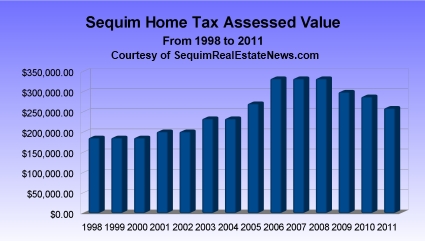 I sold a home recently in the Sunland Golf Course area.  Charting the Tax Assessor's values from 1998 through 2011 creates a chart that shows the pattern of Sequim home values over these years.  I charted many homes in the same way, and I was fascinated to see precisely the same pattern each time.  While the prices are different from home to home, the Sequim home values tend to show the same percentage increases and decreases in value in the same years. 
Sequim Home Values Based on Sales
It should be no surprise that charting Sequim home values from the Clallam County Tax Assessor's data would show a realistic trend on prices, because the Assessor software is using actual sales of homes within a radius of the subject property.  While their software does not make the fine distinctions an appraiser can make by differentiating home features and views and construction quality, their software manages to show a trend that I find to be consistent with reality. [Read How To Use The Tax Assessment Website]

Sequim Home Values and Trends
The trend has been increasing Sequim home values from 1998 to 2003 with a pause, and then a continuing increase in values through 2006, a leveling off through 2008, and then declining Sequim home values through 2011.  I would add this commentary about the Tax Assessments.  They are lagging indicators.  In other words, you could move all these bars up one year earlier and you would have what would probably be a more accurate timeline of Sequim home values.  [Read Assessed Tax Value vs. Sales Price]

If you look at the value the Assessor's software assigns to your home, you might be surprised at how accurate it is in light of the true fair market value of your home in this market.  As I said earlier, sometimes the Assessor's values are off, and sometimes way off, but more often than not, they are turning out to be fairly accurate lately.  Fortunately, Sequim home values appear to be leveling off for now.
Last Updated on July 19, 2012 by Chuck Marunde