Imagine a Sequim home with a barn and shop, which is also a Sequim horse property, which also has a separate guest house, which is also in a very quiet area, which is also very close to town, which is within a short walk of the Discovery Trail, and which is above John Wayne Marina with a partial water view and a partial mountain view.  Have you ever said, "That sounds too good to be true?"  I have many times in my life, but this home is all these things.  This could be the perfect retirement home.  Granted, it's an older home built in 1981, but as you can see from the interior photos, it is beautiful, comfortable, cozy, and the floor plan is great. Search the entire Sequim MLS inventory and you will be lucky to find another Sequim home with a barn, let alone one with a guest house and all of these other features in one property.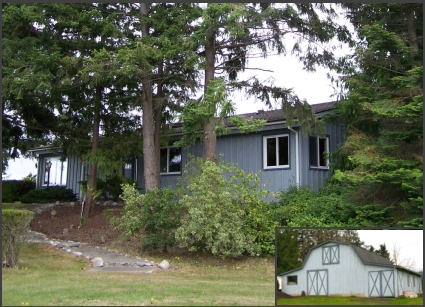 Sequim Home with a Barn
Three bedrooms, two baths, a den, a living room plus a family room and a game room (or anything you want), in a quiet suburb just minutes from the grocery store makes this partially remodeled home almost too good to be true at this price of $425,000.  Finding a Sequim home with a barn is rare, at least one for sale.  The barn has room for parking an RV, a shop and storage, plus another large room upstairs, which can be used for storage or could be finished for an office or something else.
Sequim Home with a Barn and Guest House
The guest house is two large bedrooms in a separate building. You might want to upgrade the paneling, and you might want to install a bathroom, but it is used now for boys' bedrooms. It's very hard to find a home in Sequim with a separate guest house, which by the way, could also be an artist's studio or home office.  And it's very hard to find a Sequim home with a barn that is for currently sale.
Sequim Home with a Barn and Horse Stalls
This barn is set up to park an RV or vehicles and could also house a large shop of some kind.  On the side of the barn it is set up for two horses to get out of bad weather (as if we ever have bad weather in Sequim).  The property is only 1.52 acres, but it is a short walk to the Discovery Trail  and while not part of this sale, there is an adjacent eight acres owned by another person, and he is open to the idea of leasing it for grazing horses.  He also will sell it at a reasonable price.  If you have an interest in purchasing that additional acreage, I can help you do that.
See more photos online and more details about this home at: Sequim Home With a Barn.
Last Updated on December 8, 2012 by Chuck Marunde