Sequim homes sold have increased in 2012 compared to 2011. I've compiled data showing Sequim homes sold in each month of both years.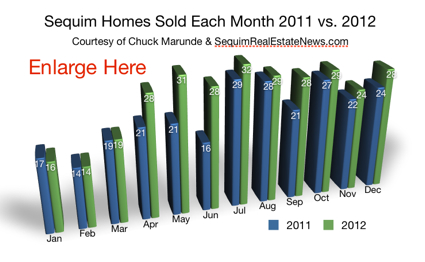 Sequim Homes Sold on the Increase
Total Sequim homes sold in 2012 have increased by 18% over 2011.  That's good news.  That's a big jump in sales.  I don't think we can jump to conclusions, in other words, I don't think we should conclude that the real estate market is in recovery now.  But it still is a good sign, and should be an encouragement to homeowners wishing to sell their homes in Sequim and Port Angeles.
Sequim Homes Sold
You can see on this chart that sales in April, May, and June were substantially up in 2012 compared to 2011, but the last quarter of the year had improvements in each month, too.  I'm also pleased to report that this brokerage is selling more than our share of homes each month, even during the winter months.  That has a lot to do with our massive Internet marketing approach that reaches out to buyers all over the country.  
Sequim Homes Sold
If you are a homeowner planning to sell your home, email us your questions (or call anytime), and we will be glad to help in any way we can with no obligation.  Hopefully, this report on Sequim homes sold has been encouraging to you.
Last Updated on September 19, 2019 by Chuck Marunde