We are excited to announce the all new 4th edition of Sequim Real Estate: A Buyer's Guide, which is now available on Amazon in either a paperback version ($24.95) or a Kindle version ($9.95). It is hot off the press as we just finished publishing this update this morning.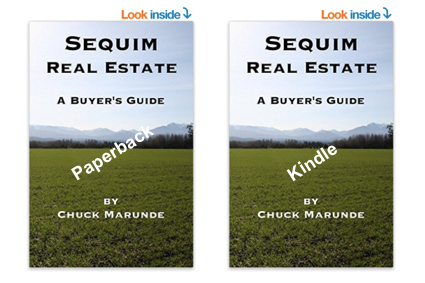 Sequim Real Estate: A Buyer's Guide
Thousands of buyers have read Sequim Real Estate: A Buyer's Guide and found it very helpful. This is the 4th Edition, and I hope you also find it helpful, but I want you to know what the purpose of this book is, and how to use it to help you if you are thinking about buying real estate in beautiful Sequim, Washington.
This is a book written specifically for buyers of Sequim real estate, and my intent is to give you good content, accurate information on the most important issues, checklists, and helpful suggestions that will guide you through the process. But this book is also a window to many free Sequim online resources, including thousands of articles, websites, multiple MLS sites, and smartphone tools. In other words, don't stop with this book, because this will lead to a lot more free information for you, all online and at your fingertips anytime 24/7.
Sequim Real Estate
I've been listening to the questions buyers have been asking for the past 20 years about Sequim real estate, and this book and the online resources answer those questions. By the way, this book could have been named, "Port Angeles Real Estate: A Buyer's Guide," because it applies to Port Angeles, too. If you're looking at Port Townsend, this is still the most relevant book on the market today.
This book is a labor of love from a lifetime in real estate. You can click on the image above to purchase a copy, or go to Amazon and search for the title. If you do, please consider leaving a positive review on Amazon. I hope you enjoy Sequim Real Estate: A Buyer's Guide.
Last Updated on September 6, 2019 by Chuck Marunde