The largest Sequim Real Estate Blog has received an upgrade, and this is good news for buyers from outside the Sequim area. If you enjoy sports, you'll appreciate this analogy.  A great athlete makes his moves look easy, but behind his extraordinary athletic feats are years of blood, sweat, and dedication.  A great basketball player navigates the court gracefully, dodging and weaving his way to the key, and then suddenly explodes with a series of powerful moves punctuated by a dramatic slam dunk. This Sequim Real Estate Blog makes navigating the Internet seem easy, but it will guide you to your goal with content rich information about buying Sequim real estate.  Under the hood of this site is powerful programming, rich information for buyers, and organization that is designed and constantly improved to meet buyers' needs and preferences.  This site has taken many years of blood, sweat, and dedication to create and to maintain. Yet all of this is absolutely free for buyers.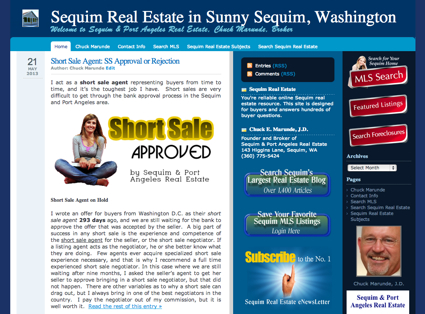 Sequim Real Estate Blog – What Info?
You'll love the "MLS Search" site, which I believe is the most powerful Sequim MLS and Port Angeles MLS site online.  Like the great athlete who looks like a normal guy, this site looks like a normal MLS site, but it is so much more powerful than its simple appearance.  There's a lot under the hood that you'll never know about, but you'll love the site.  You'll love the "Featured Listings," which will show you some of the most beautiful homes on the market.  These are also Chuck Marunde's listings.  You'll see that our graphics on the Sequim Real Estate Blog are looking better than ever.  While we focus on content and tools for buyers, a little eye candy can't hurt.  You'll also love the "Search Foreclosures" site, but I have a big tip for you here.  After reviewing that site, which is a Foreclosure.com service (but requires a subscription), you can go directly to the "Sequim MLS Search" site and search specifically for Sequim Foreclosures and Port Angeles Foreclosures, aka REOs.  An REO is a home that was foreclosed and is now owned by a bank.  One of the search parameters I had programmed into this site includes REOs.  This means you can find every home that was foreclosed and is now back on the market for sale. Update: We no longer host a short sale site. But you can look at all the listed foreclosures at: Sequim Foreclosures.
Sequim Real Estate Blog Power
You'll love the option to search the entire Sequim Real Estate Blog, which includes articles on a couple of other Sequim real estate sites.  Over 1,400 articles answer questions that buyers like you have been asking for 18 years in Sequim and Port Angeles.  You can also save your favorite homes as you do your Sequim Real Estate search, and when you come back to review your favorite homes, you'll find the login conveniently on the front page of the Sequim Real Estate Blog.  And you'll benefit by subscribing to Chuck Marunde's eNewsletter, which you'll see is easily done in the right margin of the first page of the blog.
I give you the constantly improving and upgraded Sequim Real Estate Blog for buyers. UPDATE: We just got another super powerful upgrade as of September of 2019. With over 2,200 articles (and videos and photos and 2 MLS sites) and with the most powerful tools available to leverage all this information for buyers, this upgrade just pushes us so far beyond the competition in the Sequim area, we have to ask the question. Why would you hire anyone else?
Last Updated on September 19, 2019 by Chuck Marunde