I wrote earlier about how there is a burst of activity in Sequim, and buyers have suddenly shown up and are making offers.   This weekend I sold two houses.   The first involved clients from California who purchased a stunning home in Sunland, and the second was one of my listings in Sunland, a gorgeous home right on the golf course.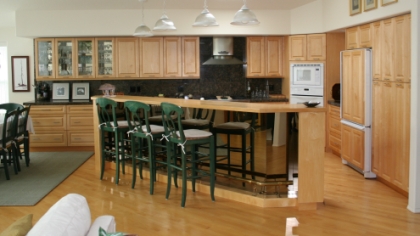 Beyond my own sales, I note that the total number of transactions that have a pending status in our MLS has jumped to 91 (which does not include my two).   This number, which represents the number of offers that have been accepted but have not closed yet, has been stuck at 81 for a couple of months, and only this weekend did it jump to 91.   This could mean that 6 to 10 houses sold this weekend alone.   (I'm being careful with statistics here because pure numbers don't always tell the whole story.) That's impressive for a small market like this.   [8/12/09 Update:   A few days after I wrote this, the pending ("active-under contract") transactions jumped to 100.]
This is a good sign for the Sequim and Port Angeles area.   It doesn't mean sellers are home free, because buyers are still cherry picking the best homes, but we can see that buyers from out of state are making their move to Sequim especially.   It also tells buyers that when they see the right home, they should make their move before someone else does on that same home.   On the first home where we reached mutual acceptance, there was another couple who have been seriously looking and re-visiting the home.   They waited too long.   My clients pulled the trigger and it's off the market.   On the second home, my listing on the golf course, the other buyer who called me and said she wanted to buy it for sure also waited too long.   I feel bad for her but good for my own clients who have sold their house and can move on to their next project.
Isn't it interesting how things work out?   Just thought you would appreciate an insider's view of the Sequim market this weekend.
Last Updated on August 12, 2009 by Chuck Marunde