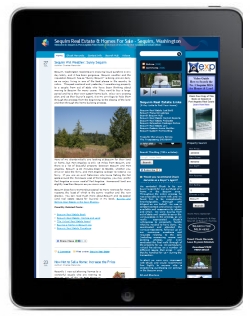 Searching for Sequim real estate or Port Angeles real estate on mobile devices is getting more popular, and this company constantly seeks to be on the cutting edge of bringing clients the best tools to find their homes on the Internet.  We're pleased to announce another first for Sequim and Port Angeles at this brokerage.  Not only are we the first and only real estate company locally to have an iTunes application for searching real estate in Sequim and Port Angeles (download it from the iTunes store on your iPad or your iPhone or iPod Touch), we now offer our clients another service.
When I'm showing homes to buyers, it used to be I had to have a clipboard with the listing data sheets for the homes we wanted to look at.  I still keep the data sheets, but now I carry my iPad on all my showings, which allows me to quickly and easily answer any questions my clients have about any property, including properties for sale that were not on our list.
Clients often say to me, "What about that house?" as we drive around.  Now that question is easily answered, and we can pull up to the curb and look at the interior photos of the house on my iPad as well as read all about the features and the price.
This is just another example of how this company has built its business model and all we do around our clients.  Our clients are the center of the Universe and everything we do is an outgrowth of that.  We prove that every day.  We work very hard seven days a week to earn your business. If you think we've earned it, email or call today.  Chuck Marunde can be reached at chuckmarunde@gmail.com or 360-775-5424.
Last Updated on July 27, 2012 by Chuck Marunde