Your unofficial Sequim Travel Advisor here to share how easy it is to visit family from Sequim. This past weekend I visited my two sons who both live in Las Vegas. My trip was very pleasant, surprisingly short, and inexpensive. The same scenario applies whether you travel to Phoenix, Los Angeles, Salt Lake City, Boise, or many other cities on the west coast or in the midwest. This Sequim Travel Advisor would suggest that even trips to the east coast are easily accessible from Sequim, although flight time is longer of course.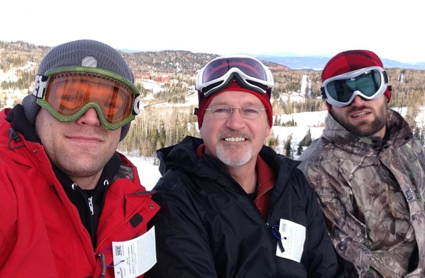 Sequim Travel Advisor to SeaTac
A trip from Sequim to Vegas starts with a two hour drive to SeaTac. Parking is easy, and I recommend a secured parking lot I have been using for years, MVP Airport Parking. They will park your car and drive you to the airport which is only a few minutes away, and they charge $10.95 per day. SeaTac is a beautiful airport, and if you plan ahead and get their early, you'll find some nice restaurants after you get through security. This Sequim Travel Advisor finds the journey an adventure. Why not make it a fun trip? The flight to Vegas was only an hour and twenty-nine minutes (we had a huge tailwind). The cost of flying round trip to Vegas is typically $225 to $250.
Sequim Travel Advisor to Vegas
In this photo above riding on a ski lift, I'm in the middle with my son, Bristol, on my right and my other son, Brady, is on my left. We drove to Brian Head Ski Lodge in Utah just across the border and spent the night in a condo, ate a delicious steak dinner, then soaked in the hot tub and caught up with great conversation. I started my sons skiing when they were very young, and we made it a Marunde family tradition to hit the ski slopes every winter, so we have fond memories of all the great times (and even some of the hilarious crashes). Of course, I never fell myself. My oldest son, Jesse, was missing on this trip as he went home to be with the Lord a few years ago, but my time with my sons this weekend was one of the best weekends I've ever had. My sons are incredible men now, men of good character, hard workers, and great family men. I'm very proud of them.
This is what you can expect if you retire in Sequim. You can travel to visit your family and enjoy your trip. But most of all you can enjoy your children and grandchildren. What a blessing! This is one perspective from your friendly Sequim Travel Advisor and Realtor Chuck Marunde.
Last Updated on September 21, 2019 by Chuck Marunde