This  Sequim water view home is arguably the most beautiful luxury home in Sequim.  There are many elements to the ultimate luxury home.  This home has the best of locations with a panoramic water view of the Strait of Juan de Fuca, a prestigious gated community, and a five acre lot with the home majestically poised on the highest view point.  The property has been beautifully landscaped, but the landscaping can be maximized or minimized to suit your preferences.  The architecture and floor plan of this home truly set it apart from all the other homes in the MLS.  The design focused not just on beauty and comfort, but also on functionality.  The kitchen is full of special features that are rarely found in any home, even a luxury home.  The site planning of this home takes advantage of the water view, and all this together definitely make this home one of the most, if not the most, beautiful luxury homes in Sequim.
Sequim Water View Home Virtual Tour
Sequim Water View Home MLS Data Sheet
Take this unique video tour in which the owners themselves talk about the design and features and walk us through the home.  You can learn more about this stunning Sequim water view home at Sequim MLS listing. 
Sequim Water View Home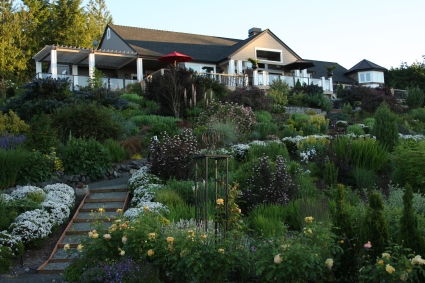 These owners also love to golf, and Sequim Golf Courses are some of the best in Washington state.  Sequim has the driest golf courses in Western Washington.  Learn more about our golfing at Sequim Golf Courses.  For a private showing of this $1.1 million dollar home, please call Chuck Marunde at 360-775-5424 or email chuckmarunde@gmail.com.  Come and see Sequim, which has been called "One of the 10 Best Places to Retire in America."  And come and see this incredible Sequim water view home.
Last Updated on May 26, 2012 by Chuck Marunde