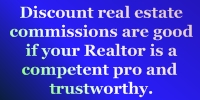 If you haven't noticed, there is a major argument all across the country about real estate commissions, and the so-called "discount broker."   Sellers are frustrated with their traditional brokers, but not because their brokers haven't sold their houses.   There's an element of frustration there, but it has nothing to do with the commissions.   Home sellers are intelligent enough to understand if buyers are not showing up, brokers can't sell their houses.
What sellers are frustrated with is the low level of performance on the part of their brokers who want full commissions.   This is not coming from me.   This is coming from consumers.   As a result of thousands of home sellers around the country being so dissatisfied with their traditional full commission brokers, many brokers are now offering discounted or flat rate commissions to meet the demand.   The brokers who proudly call themselves "full service" brokers are rabid, and attacking discount brokers in articles on the Internet.
What is the argument of traditional brokers against discount brokers?   The first, second, and third argument is, "We are a full service brokerage, not a discounter, and we give our clients full service."   Not according to many consumers, or they wouldn't be flocking to discount brokers and FSBO services.   But perhaps there is a difference of opinion on what full service really is.
I just got a call from a friend who told me an interesting story.   This is the story about a full service broker who charges a full commission.   By the way, I have practiced in three states, so which state this story comes from is not important.   What is important is that this is a story that keeps on repeating itself.
Joe (not his real name) hired ABC-XYZ Realty (not their real name) to sell his nice home.   It was listed at a substantial price, because it is a substantial house on a substantial property.   Let's round the listing price off to $850,000.   The commission schedule had my friend paying a commission of about $42,000 if the broker sold his home.   So when my friend hired this full commission broker, I mean full service broker, what did he get?
According to him, he got nothing.   Of course, we have to explore that a little, because he must have gotten something.   Nothing is pretty extreme.   I talked with him long after he ended his relationship with his agent. He told me there was a little print advertising, but not nearly as much as he wanted, but there was no activity.   No showings.   No open houses.   In fact, his agent told him he would have to hold his own open houses.   But let's face it, even if the agent held an open house, we all know that open houses don't sell houses.   They are good opportunities for the agent to pick up leads.   I think statistically only 2% or 3% of homes are actually sold at open houses.   But this seller was perturbed that he had to hold his own open houses when he was going to pay the agent a $42,000 commission.   There were no weekly or monthly reports.   There was no written marketing plan.   My friend was shocked and disappointed, because his agent sold himself as a real hot shot in the business.   There were no regular calls or letters or emails from the agent.   Nothing.
My friend felt like he had been left hanging.   He actually went with a full service broker, because he thought the service and advertising and promotions would be the best he could find, but he ended up not only disappointed, he felt cheated.   [Folks, I can't tell you how many stories like this I have heard.   I do not solicit these stories, but I keep hearing them.]
There's a lot more to the story, but suffice it to say that this so-called full service broker ended up "stabbing me in the back" as my friend put it.   Let's not get side tracked with a full explanation of what happened there.   You don't want to know.
You get what you pay for, or do you?   Many home sellers argue that they did NOT get what they paid for.   Their so-called full service broker didn't give them much more than putting their listing in the MLS, running a couple of little print ads, and posting it on the Internet somewhere without any SEO or effective syndication.   And then nothing.   No communications with the client.   No regular marketing plan the client ever sees, even when they ask for one.   No showings by the listing agent.   Any showings that do happen are other agents.   Nothing that qualifies as "full service."   Nothing that qualifies for a full commission of 5% to 6% of a large listing price.
What does a discount broker do for a discounted real estate commission?   About the same as that full service broker, and in my case, as a discount broker I do a lot more.   May I suggest that every time someone uses the term "full service broker" we insert the phrase "full commission broker." Isn't that what we really mean?   I can tell you that I am a discount broker, but my professional experience is not reduced at all.   My clients get 100% of all that I am.   There's no discount in in my knowledge or experience.   My clients get far more exposure on the Internet.   My clients' listings go in the MLS.   I don't like to advertise in the print media, but all of my clients agree that the newspaper classifieds don't sell real estate anymore like they used to.
I've been telling the story of my friend, but I've been hearing this same story for 30 years, going back to when I first practiced in Fairbanks, Alaska in the 1970's.   I heard this same story numerous times over a period of 20 years practicing real estate law, and now I'm hearing it again and again as a real estate broker.   So why do other agents get really ticked off when I write about this?   Is it because they are the full commission broker like the one in this story?   After all, if they are providing their own clients with such good service, wouldn't they agree with me?   What I am writing here is fact, not fiction, so wouldn't they agree with the facts?   Surely I'm not the only one hearing stories like this over the past 30 years.   Of course I'm not.   These experiences are what is creating such a demand for the discount broker.
As a broker myself, I am offering discount commissions to a limited number of clients that I chose to accept, but my clients tell me that my service far exceeds the full commission brokers they have dealt with in the past.   Isn't that interesting?   Does that mean my services exceed all full service brokers?   Of course not.   There are many good full commission brokers out there, and they are the ones who don't have clients telling negative stories about them.   I know many outstanding Realtors who charge a full commission, and I admire their success and their professionalism.   But I would say as a discount broker I will match my skill and experience and professionalism with any full commission broker.   Enough said.
We used to be able to say, "You get what you pay for," and we could all agree that was true.   It is no longer true according to many consumers.   One of the reasons I offer a discount on commissions for luxury homes is because I think a $30,000 or $40,000 commission is just way too high.   Sure I'd like to bank those commissions regularly, but my business model puts my clients at the center of the universe, not my bank account.   Being a professional Realtor is not all about me, me, and me.   It's about my clients.   So for me, discount broker is not a dirty name, but a client centered focus.
What about full service?   What is full service?   For those brokers who think full service is putting a listing in the MLS, running a couple of useless print ads, and pasting it up on the Internet somewhere, I would disagree and suggest that is not a full service brokerage.   And I don't think that broker should be entitled to a full commission.   I do far more than that, and I'm a discount broker.
Consumers are getting serious about doing their due diligence when they retain a Realtor.   I'm glad, because consumers deserve the best Realtor they can find, and if that is a full service broker at a full commission, then great.   If it is a discount broker at a discounted commission, that's great, too.   The goal is to sell the clients house at the greatest possible price in the least amount of time.   What clients want is honesty and hard work, and they want an agent who is competent and trustworthy.   Ultimately, they want their house sold at a fair price.
Let's be open and honest with each other and with our clients.   There's nothing wrong with a full commission model, and there's nothing wrong with a discount model, as long as the Realtor is doing a great job for the clients.   That is where clients have their argument.   They want good service, and they do not like misrepresentations about what full service really is when they are paying a full commission.   Discount brokers are responding to the demand for their services.   The only discount brokers I know in Clallam County are outstanding men, and in my opinion, they are Realtors who have integrity, who work hard, and who are also competent and trustworthy.
Last Updated on February 22, 2009 by Chuck Marunde