This Sequim castle is proof that Europe has nothing on Sequim. You can't help but stop and gawk at this Sequim castle or Troll Haven as it is called. It is just fascinating.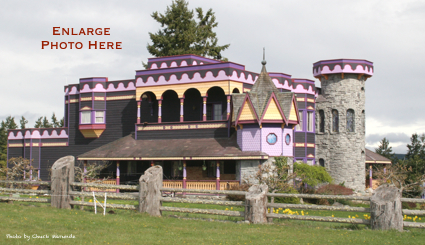 Sequim Castle is Fun Sight
Sequim is a major attraction for retirees, and one of the benefits of having people from all over the country (and even Europe), retire in the Sequim area is the variety of architectural preferences. We are fortunate we don't have subdivisions where all the houses and yards look the same. Not in Sequim. We have a wonderful variety of homes and a variety of landscaping preferences. But we only have one Sequim castle.
Sequim Castle Inhabited by Gandalf and Company
This Sequim castle was built by one of Sequim's colorful residents, Gary Bandy. I had the privilege of talking with Gary on a few occasions many years ago while I was still practicing law. Gary became a very successful businessman and after a great career he retired to Sequim from Los Angeles. He purchased property on Discovery Bay, and he built some houses, including this Sequim castle. You've gotta love it, too! I'm not certain, but as I took this photo, I thought I saw a hobbit peeking out of the upstairs window, but I could be wrong.
When you come to explore Sequim, notice the variety of architectural styles, but take time to drive by our famous Sequim castle.
Last Updated on September 21, 2019 by Chuck Marunde