The largest real estate blog in Sequim for ten years and running is still Sequim-Real-Estate-Blog.com or simply SequimBlog.com. We just got a major upgrade, and buyers are not just going to love this massive upgrade: they are going to be giddy excited. You're not going to believe how much information for buyers is readily available on this site at your fingertips, and how easy it is to navigate. But if that weren't enough to catch the attention of serious buyers, the bigger point is that you won't find more content-rich material, articles, videos, photos, checklists, and books, not to mention the personal advice of long time Sequim resident and real estate attorney (ret.) and broker Chuck Marunde.
The Largest Sequim Real Estate Blog By Far
There are 2,202 articles on this real estate blog as of today written specifically for buyers coming to Sequim and covering almost every conceivable issue that has come up over the paste 25 years during which Chuck Marunde has been in Sequim as a real estate attorney and Realtor. This is a veritable encyclopedia of Sequim real estate, and literally there is no other source of so much relevant information for Sequim buyers than on this real estate blog.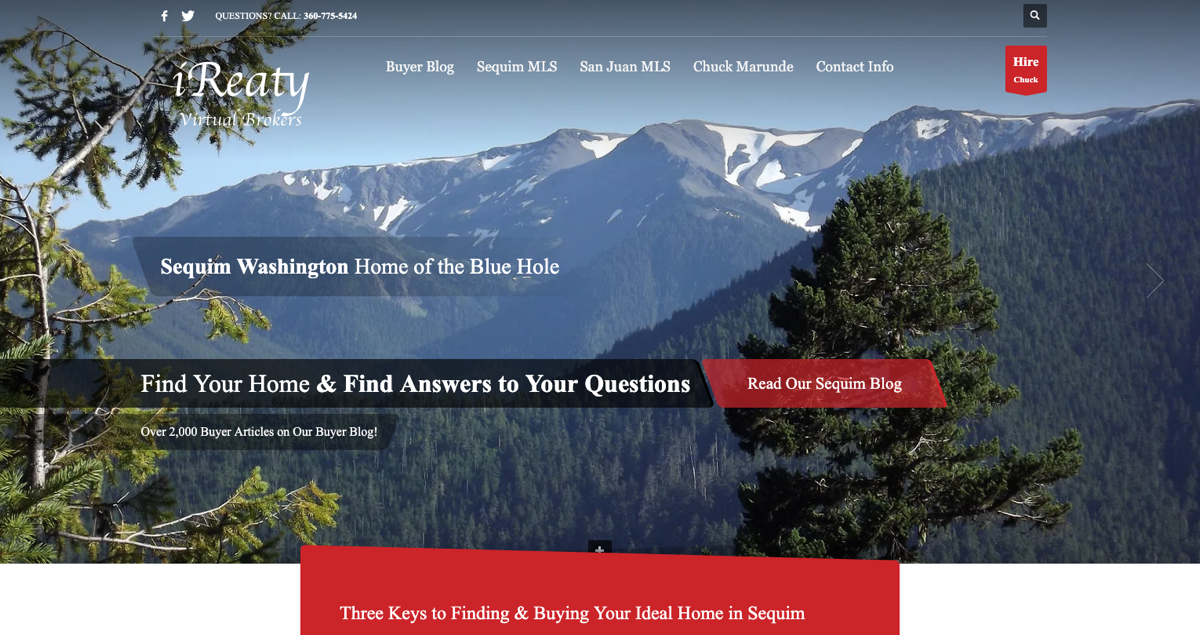 Where else could you possibly find specific Sequim real estate articles written by an experienced Realtor and attorney who has dealt with almost every issue, every dispute, every clause of the forms, every negotiating tactic, and every objection over a period going back 40 years? With the search tool on the home page, you can search any word or any phrase, and pull up every article ever written on that subject over the past 11 years, which actually includes 20 years of law experience and a total of 40 years in real estate.
This is why these 2,200+ articles are worth their weight in gold to buyers. Well, since you're doing all this on the Internet, these digital articles weigh virtually nothing, but the content is heavy. Of course, all of these articles and the experience behind them is offered free to Chuck's buyer clients.
The Largest Sequim Real Estate Video Site for Buyers
Chuck Marunde has been creating real estate videos for many years, and he makes these professional quality videos available on this real estate blog and on Youtube. You'll see many of these videos embedded in blog articles, and you'll see links to Youtube playlists and to individual videos for buyers.
The Largest Sequim Real Estate Photos Inventory
Thousands of photos are also posted on this real estate blog, and you'll enjoy the originality and the composition of Sequim area photos with the goal of helping you get to know Sequim better.
The Most Sequim Real Estate Books for Buyers
Who writes Sequim real estate books for buyers? Only someone as crazy as Chuck Marunde, and they are posted on this blog from time to time and you'll see three of them on the home page of this blog. Most come in an ebook format, but several also come in paperback versions.
The Content is easily found on this site, because the navigation has been designed to make everything easily findable. Browse the main blog home page, and use your mouse to click on all the buttons and options, drop down menus, and other links. You'll be pleasantly surprised by how much deep content you'll find through this site. And when you cannot find an answer to a question, all you have to do is email or text Chuck, and he'll help you get an answer.
Last Updated on September 22, 2019 by Chuck Marunde