Is Sequim and Port Angeles real estate selling? What home prices are selling most? If you have a home for sale in the $500,000 to $600,000 price range, you may be frustrated because it hasn't sold in the past three or six months since it has been listed. So are homes selling in this price range? What about other price ranges? Here is a graphic of exactly what is happening from April 1, 2008 through July 31, 2008.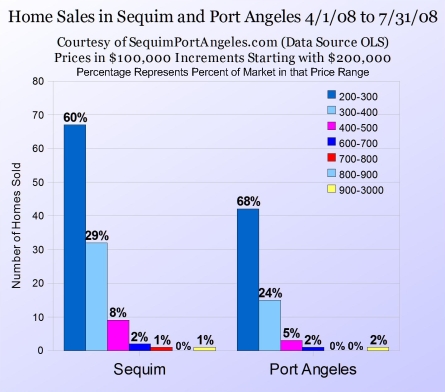 In Sequim 60% of the homes sold for $200,000 to $300,000.   The number of homes is shown on the "Y" axis.   In Port Angeles 68% of homes sold in this price range.   It gets interesting when you get above $400,000.   Only 8% of homes in Sequim sold for $400,000 to $500,000, and in Port Angeles it was only 5%.   Homes above $500,000 have simply not been selling.   Only a few have sold in all of Sequim and Port Angeles in four months.
The bottom line is that very few homes are selling in the upper price ranges. It becomes obvious that the key is connecting with that one or two buyers who will buy a home in that price range in the next few weeks or months. To connect with that person, you must have an effective marketing plan and a proven methodology to bring that person into your world.
That's what I do.   Need help getting this done? Email me at chuckmarunde@gmail.com or call me at 360-775-5424.
[Data is from the Olympic Listing Service, which means that anything not listed with a real estate agent is not included in these stats.   FSBO's and new construction (not listed) would not be included.   It's safe to say that there has been no large move in either of those market segments.]
Last Updated on August 18, 2008 by Chuck Marunde