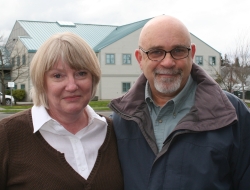 Looking for a Port Angeles real estate agent?  I got this testimony from two wonderful clients, and while I try to write specifically for my clients and potential clients and not talk a lot about myself, I really did not feel like I could keep this testimony to myself.  So for what it's worth, here it is without any edits from me.  I thank Dan and Brenda for their kind words.  And I hope you'll consider me as your Port Angeles real estate agent.
Port Angeles Real Estate Agent
My wife and I used Chuck Marunde as a buyer's agent. We have lived in the Northwest and plan on retiring in Port Angeles, WA. We currently live in Ohio.  We wanted a Port Angeles real estate agent.
Chuck has a thorough understanding of the challenges of a long distance Real Estate search. He helped me use resources on the internet, including foreclosure and short sale information. With Chuck's help I was able to get a good feel for pricing in Port Angeles and was able to develop a comprehensive list of houses to look at before making a trip to the area.
Port Angeles real estate agent Chuck Marunde helped us find our home.
Like everywhere Port Angeles is experiencing a crazy real estate market. Houses can sit on the market for years, price reductions are common and houses can sell for $100,000 less than asking price. It is a buyers market, but to take advantage of this you must have an agent who is truly acting with your interest in mind. Chuck does this.
As a Port Angeles real estate agent, here is how we describe Chuck:
1. An agent who truly acts in your best interest.
2. An agent who has experience with short sales and foreclosures. Nationally 25% of all homes with mortgages have more owed on them than they are worth. If your agent cannot navigate these waters you could miss out.
3. An agent who thoroughly understands the use of the internet and helps his clients take advantage of this resource.
4. An agent with resources in the residential building industry. We needed some repair estimates. Chuck was able to get "same day service" for us.
5. An agent who truly knows how to communicate making our long distance search as smooth as possible.
6. An agent who has a passion for the North Olympic Peninsula and the lifestyle opportunities it offers. This made our house search not only informative but fun. His enthusiasm in contagious.
7. An agent who is open, honest and of the highest integrity.
My wife and I highly recommend Chuck. He works with your best interests in mind.
Who will you hire as your Port Angeles real estate agent?
Last Updated on July 27, 2012 by Chuck Marunde