Author: Chuck Marunde
27 Apr
The California Coastal Commission is out of control, and homeowners with beachfront property or bluff property are being told they cannot protect their house with standard small barriers, and those who have barriers (treated wood or rock boulders) are being told they cannot maintain those barriers, even if this means eventually their houses will fall into the ocean. This is an unconstitutional taking of private property, and apparently the case will go to the courts for resolution.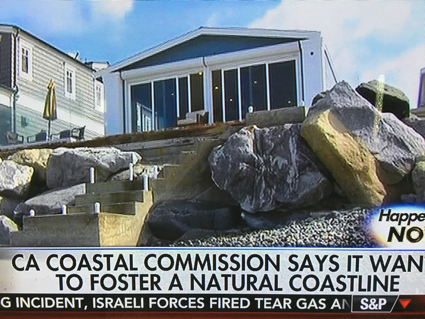 California Coastal Commission v. Washington
In Washington state we have a massive law called the Washington Shoreline Management Act (SMA). It may not be as onerous as the California Coastal Commission, but it does govern what you can and cannot do along any shoreline in Washington. Under the Act each city and each county with shorelines must prepare their own Shoreline Management Plan. Besides multiple jurisdictions, you may deal with more than one agency if you want to do anything along a shoreline. Each agency creates their own Regulations, and a simple matter like protecting your shoreline or bluff can become extremely complicated and even expensive with technical engineering reports required.
California Coastal Commission Awash
All this means if you want to do make improvements or maintain your shoreline in Washington, you may be in for a bureaucratic nightmare, although perhaps not as bad as the shorelines subject to the California Coastal Commission.
Building a path to the beach from your medium high bluff may not be possible. Building your own dock probably is impossible. The last gentlemen I know who built one said it cost him $100,000 in permits and studies and legal fees and many years. He started that process when he was a young man, and now he is old. Maintaining your bluff to protect your property may also be a task of epic proportions.
Read more about Sequim Bluff Stability.
Possibly Related Posts:
Author: Chuck Marunde
11 Jun
Most buyers select a local mortgage broker, but once in a great while I have a buyer who has a mortgage broker from outside the Sequim and Port Angeles area.  While a broker in another state who is licensed in Washington state can do business here legally, most of the time it is a dangerous idea fraught with potential nightmare stories for a buyer (and his seller).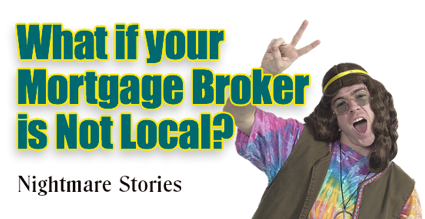 Mortgage Broker a La Carte
Imagine a broker from outside the area who does not know the Sequim real estate market, who has no local network, who doesn't know any local appraisers, and no one local knows him? A good, competent, professional mortgage broker could still do a good job.  Unfortunately, many buyers buying a home in Sequim have found out the hard way that a mortgage broker can be responsible for killing a real estate transaction or causing a delay that causes a lot of stress for everyone. 
Mortgage Broker Competence
I recently had a buyer who hired a mortgage broker from outside the area.  He kept telling us everything was moving forward, but a week prior to the closing date, the mortgage broker had not even ordered the appraisal.  The transaction had to be extended by several weeks, which caused a tremendous amount of stress for the buyer and seller, a lot of juggling to keep the transaction on track, and the parties had to sign an addendum extending the closing date.  What if one of the parties refused to sign such an addendum.  You can imagine the nightmare scenario.  
I also had a transaction recently where my buyer had a Seattle mortgage broker who did an excellent job.  I cannot overemphasize the importance of hiring the right mortgage broker, and most of the time that means a local Sequim mortgage broker who has a stellar reputation.
Possibly Related Posts:
Author: Chuck Marunde
12 Oct
This is an open letter to buyers of homes in
Sequim and Port Angeles.
Dear Buyer,
You are a member of the elite right now, at least in this market.   You are the qualified buyer with good credit and funds for a down payment to buy a house.   You know what you want, and you know what your maximum price is.   You're intelligent, and this is not the first time you've bought a home.   You've had a successful career, and some of you are finishing your second career.   You use the Internet to filter through your options, and you ultimately decide to work with a Realtor.   After all, he knows the area and can answer a lot of specific questions, and as an exclusive buyer's agent, he doesn't cost you a single dollar.
Many buyers are making mistakes in this market.   Don't be one of them.   What kind of mistakes are buyers making?   (more…)
Possibly Related Posts: