Most buyers select a local mortgage broker, but once in a great while I have a buyer who has a mortgage broker from outside the Sequim and Port Angeles area.  While a broker in another state who is licensed in Washington state can do business here legally, most of the time it is a dangerous idea fraught with potential nightmare stories for a buyer (and his seller).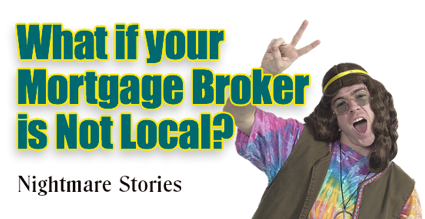 Mortgage Broker a La Carte
Imagine a broker from outside the area who does not know the Sequim real estate market, who has no local network, who doesn't know any local appraisers, and no one local knows him? A good, competent, professional mortgage broker could still do a good job.  Unfortunately, many buyers buying a home in Sequim have found out the hard way that a mortgage broker can be responsible for killing a real estate transaction or causing a delay that causes a lot of stress for everyone. 
Mortgage Broker Competence
I recently had a buyer who hired a mortgage broker from outside the area.  He kept telling us everything was moving forward, but a week prior to the closing date, the mortgage broker had not even ordered the appraisal.  The transaction had to be extended by several weeks, which caused a tremendous amount of stress for the buyer and seller, a lot of juggling to keep the transaction on track, and the parties had to sign an addendum extending the closing date.  What if one of the parties refused to sign such an addendum.  You can imagine the nightmare scenario.  
I also had a transaction recently where my buyer had a Seattle mortgage broker who did an excellent job.  I cannot overemphasize the importance of hiring the right mortgage broker, and most of the time that means a local Sequim mortgage broker who has a stellar reputation.
Last Updated on September 19, 2019 by Chuck Marunde