3D virtual tours are important. In the last few years alone we have entered an entirely new era in the real estate industry. I started writing about vast new changes in consumer preferences in the first edition of my book, The New World of Marketing for Real Estate Agents, in 2010 and how Realtors would have to adapt quickly. I wrote that brokers who did not learn to adapt with new business models and new technologies would eventually close their doors, go bankrupt, and merge or consolidate. Unfortunately, all that has been happening across the U.S. for the last decade en masse.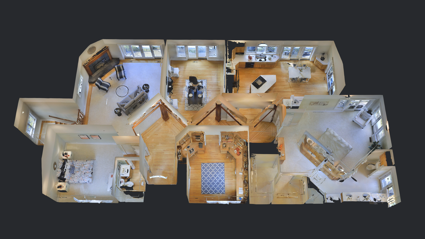 According to the National Association of Realtors national survey of Realtors, less than 5% are using real estate blogs, and the majority of those Realtors are not posting articles regularly or using their blog to maximize their marketing and lead generation to reach highly qualified clients. I would estimate that less than one percent (1%) of Realtors in the United States are using the Internet and powerful technologies in a modern business model, and that includes 3D virtual tours.
3D Virtual Tours
In my small real estate market, for example, I am the only Realtor who owns and uses 3D virtual tours, a camera with 9 lenses that allows consumers to walk through the house interactively from the comfort of their own computer or mobile device. I've sold homes sight-unseen because of my 3D virtual tours.
I am the only registered Realtor who is an FAA drone pilot in my market, and this is another surprise. Aerial videos of homes and the surrounding scenery is a huge selling tool in this modern day of technology.
I would argue that Realtors cannot afford not to have 3D virtual tours. While it costs about $5,000 plus the cost of an iPad, which operates as the controller, any listing agent who doesn't have one and learn how to use it, is like a gunfighter going to a shootout without a gun.
What buyers want and expect in this modern era, is the ability to view a home inside and out as though they were actually there, and they want to conveniently do this from the comfort of their laptop at their kitchen counter or from their iPad at their local Starbucks. With 3D virtual tours, they can walk throughout a home, turn 360 degrees in any room, walk around the kitchen island, go upstairs and downstairs, and the accuracy and clarity of the visuals is so realistic, it truly feels like being there.
A drone is also critical for beautiful homes or luxury homes or beach front homes or any home with a gorgeous surrounding. I love my DJI Mavic Pro, and so do buyers browsing listings in the Sequim area.
Sellers expect their listing broker will capture their home in all its glory and present it on the Internet to as many highly qualified buyers as possible. They expect their broker will get outstanding digital photos of the interior and exterior. They expect their broker will be able to edit those photos so they will look incredible, and so the photos will accurately depict their home without making rooms appear smaller or larger than they really are.
3D Virtual Tours and Drone Videos
They expect their real estate agents to use the latest and greatest technologies to make their home look its absolute best to prospective buyers on the Internet, and that includes impressive technologies like 3D virtual tours and a drone with a video camera.
One of the challenges that real estate brokers have today is just keeping up with technology. It's not easy, but this is what we do at iRealty Virtual Brokers. This is why clients seek us out. We are light years ahead of the competition, and our clients sincerely appreciate what we do for them.
Last Updated on September 1, 2019 by Chuck Marunde