I love Sequim, and I'll tell you exactly why. I was a JAG in the USAF based at Nellis AFB in Las Vegas, and my children were young. My oldest boy was graduating from 7th grade, and it was a tough school year. Some of my son's classmates were beat up, stabbed, and shot. One died. The gangs were moving into Vegas from Los Angeles, and illegal aliens were everywhere. Car and house thefts were high, and personal safety became a serious issue for me and my family. 
In 1994 I found Sequim after doing a lot of research to find a safe place to raise my children. I wanted a rural area with low crime, traditional values, outdoor activities, and a mild climate. Sequim was the winner by a long shot. That was 24 years ago, and I'm still here. I love Sequim.
I Love Sequim and My Dog Loves Sequim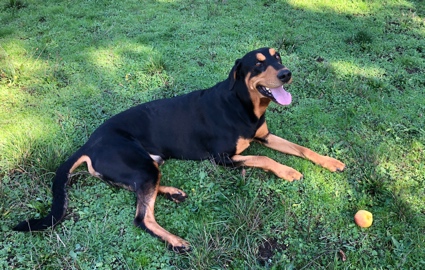 I live on 2.58 acres, but it is owned by my dog. Apparently, he thinks it is his Kingdom, and he watches over his Kingdom like a hawk. He actually catches mice once in a while. I've never had a dog that can catch mice, so he's smart and fast. He's half doberman and half black lab, so he is intelligent and happy. He also likes to eat an apple a day from my apple trees. I asked him to pose for a blog photo, and he enthusiastically agreed.
I Love Sequim and I'm Never Leaving
Living in Sequim grows on you. Everyone I know who lives here for a long time, says "I love Sequim," and they also say, "I'm never leaving Sequim." Why do people talk that way? The thing about living in Sequim is that there aren't just half a dozen things that make it so great. There's more like a hundred little things, and the longer you live in Sequim, the more you love Sequim. 
By the way, my three boys and my daughter are all grown up now, and they all went through the Sequim school system. The best decision of my life was to move to Sequim for the sake of my children. They were safe, and the school system is one of the best in the nation. They were not exposed to all kinds of evil as they would have been in most metropolitan areas of the country, and they have grown up with traditional values. I love Sequim.
You might enjoy some of the reasons I love Sequim. Years ago I wrote several articles listing the reasons, and here is the first article with 25 Reasons Why I Love Sequim.
Last Updated on September 1, 2019 by Chuck Marunde