This new Sequim property is right at the top of the Bell Curve for retirees moving to Sequim. One person said to me, "All the good homes have sold!" Well, that's not true, but it can feel that way when you cannot find your idea of the perfect home and every time you see a possibility, it is suddenly pending. This new listing is likely to sell fairly quickly, too.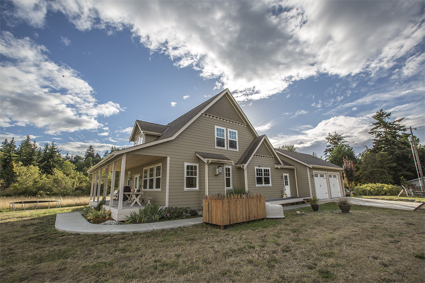 Sequim Property is Perfect
You can see more photos and all the incredible features of this Sequim property at 134 Jamestown Road. What makes this home so perfect, or why is it that so many retirees are looking for a Sequim property just like this? 
Here's why. This is a 3 bedroom with 2.5 baths, a modern kitchen with an open floor plan, a gorgeous laundry room, a large master bedroom with a master bath anyone would love (husband and wife sinks and countertops, a full large shower, a separate large tub with jets, and plenty of natural light). The high quality of construction is very impressive. This home originally was built by a custom home builder who planned to sell it for more than $500,000, but he got hit by the recession. You could not buy this land, develop it, excavate with site planning, pay for permits and build this home for this listing price.
Sequim Property Location is Everything
The other major reason this Sequim property is such a hot listing is because of the land itself and the location. As they say, "location is everything in real estate," and this property is 4.9 acres only two miles from Sequim. It sits in a peaceful area, and if you want animals, you could have them. Or you could plant your own apple trees. Adjacent to the outdoor basketball court is a natural growth of large juicy ripe blackberries as I write this.
If this property and home are your idea of the perfect home, I highly recommend you call me directly at 360-775-5424 or text me a message. You won't find another Sequim property like this at this price. Update: This property has been sold, but darn isn't it beautiful?
Last Updated on September 7, 2019 by Chuck Marunde