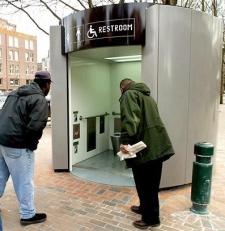 Real Estate is the topic on this blog, but I cannot resist this humorous, but expensive, example of how Seattle used a piece of real estate with good intentions but ended up with a royal flush.
In 2001 the city leaders in their infinite wisdom came up with a solution to public urination.   For ONLY $4.3 million dollars they had these beautiful and efficient self-cleaning toilets installed in 2004 in a few public places.   Okay.   Was this a stroke of genius, and did it solve the problem of smelly and disgusting public urination?
Unfortunately, no.   The toilets became a popular hangout for the drug users and prostitutes.   Last I heard, the toilets were for sale on eBay with a starting bid of $89,000.
Last Updated on September 8, 2008 by Chuck Marunde