Are Alaskans moving to Sequim?  Oh yes.  I have several clients from Alaska, and a closing in a couple of weeks with Alaskans moving to Sequim.  Sequim and Port Angeles have always had a strong connection with Alaska.  I am from Alaska myself.  I moved my family to Sequim 1994, about 25 years ago.  I took this photo below of the Robertson River not far from where I grew up, and in the distance you can see the mountains where I hunted Dall Sheep as a boy. What fond memories!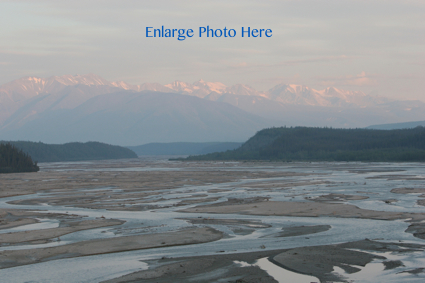 Alaskans Moving to Sequim
Sequim attracts Alaskans because of Sequim's beautiful country, and it is rural enough to still have mountains and rivers and lakes like Alaska.  But it isn't as cold and harsh as Alaska.  The Sequim weather is a welcome change from Alaska's cold winters.  I can remember many winters in Tok, Alaska with temperatures south of 70 degrees below Fahrenheit.  Sequim winters are typically in the 40's most of the winter with an occasional dip to freezing and then it jumps back up.  Of course, we have the famous Sequim Blue Hole and so we only get about 16 inches of precipitation per year.  No wonder we have so many Alaskans moving to Sequim. 
Alaskans Moving to Sequim
Right now real estate prices in Sequim are pretty attractive to Alaskans who either have cash or who have good credit and a qualifying retirement income.  I sold a brand new custom home with two bedrooms plus a den to an Alaskan for $195,000. With an Alaska state pension, the mortgage on this home is well within this client's financially secure future.  The house and yard are all low maintenance, too.
Alaskans Moving to Sequim
If your heating and electric bill in Alaska has been $600 per month, you can lower that by perhaps two-thirds by moving to Sequim, saving $400 a month right there.  If you like to fish, you can certainly fish in the Sequim area.  If you like to hunt, you can do that in the mountains.  If you want to live in the country but have access to good dental and medical services, Sequim is ideal.  Sequim has a lot of other Alaskans like me, and it really is no surprise at all that so many Alaskans are moving to Sequim.
Last Updated on September 20, 2019 by Chuck Marunde