Are homes sales increasing around the state of Washington and in the Sequim area?  The questions have come up periodically.  Is the real estate recession over?  Has the recovery started?  The news has taken us on a roller coaster of bad news and then good news and then bad news again.  It seems reports come out one week with the talking heads proclaiming we are in recovery, only to have a new report out the following week with another expert telling us that we won't see a recovery for a long time.
Homes Sales Increasing in Some Counties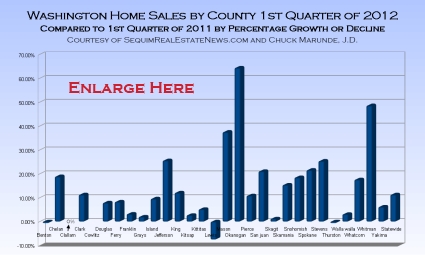 Homes Sales Increasing or Not
Enlarge this graphic by clicking on it, and you'll get a clearer picture of how homes sales this first quarter of 2012 compare with the first quarter of 2011 on a percentage basis.  Clallam County has zero growth, but at least no decline.  Other counties around the state vary dramatically.  For example, Okanogan County homes sales increased by 64%, Whitman County by 48%, Mason County by 37%, and Jefferson County by 25%.  Lewis County homes sales decreased by over 7%.  On the other hand, most other counties saw modest gains, and as you look at this chart, the pattern clearly shows home sales increasing.  Will that pattern be sustained?  That remains to be seen.
Last Updated on May 12, 2012 by Chuck Marunde