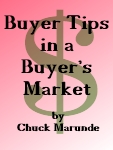 This is the third in a series of Buyer Tips in a Buyer's Market.  Sellers are making some big mistakes in this market, and a buyer who is fully informed and knows how to intelligently negotiate will have a huge advantage in this market.  In part 2 of this series of Buyer Tips, I wrote, "Some listing agents are making huge mistakes in negotiating the price and terms for their selling clients, and sometimes these mistakes rise to the level of sabotaging their own clients' transactions."  If you're going to negotiate the best possible price and terms on the purchase of your retirement home in Sequim or Port Angeles, it will be tremendously helpful if you know what sellers and their agents are doing and not doing in the negotiating process.  As they say, knowledge is power.  The purpose of this series on Buyer Tips is to give you power when you are negotiating.

Buyer Tips from Seller Mistakes
True story.  Clients hire a buyer's agent and make an offer on a manufactured home on a couple of acres.  The listing price is a little high, probably $35,000 above fair market value in this market, and that's being generous to the seller.  The house was listed at a price just south of $300,000 and the buyers offer was very reasonable.  The earnest money check was written for $1,500.  There were several standard addendums, including a home inspection addendum, a well and septic inspections, and a financing addendum.
Last Updated on September 4, 2011 by Chuck Marunde